NASA Tracking Atlantic's Tropical Storm Rina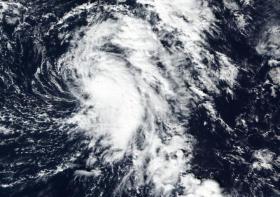 NASA-NOAA's Suomi NPP satellite has been providing forecasters with imagery of Tropical Storm Rina as it moves north through the Central Atlantic Ocean.
Tropical Depression 19 strengthened into a tropical storm and was renamed Rina at 10 p.m. EST on Nov. 6.
On Nov. 6 the Visible Infrared Imaging Radiometer Suite (VIIRS) instrument aboard NASA-NOAA's Suomi NPP satellite captured a visible image of the storm as it was strengthening to tropical storm status. The image showed that Rina's overall cloud pattern increased in coverage in the eastern quadrant of the storm. There also appeared to be with a little more deep convection having developed near the low-level center of circulation. The image was created at NASA's Goddard Space Flight Center in Greenbelt, Md.
Read more at NASA/Goddard Space Flight Center
Image: On Nov. 6, a visible image of Tropical Storm Rina was acquired from the VIIRS instrument aboard NASA-NOAA's Suomi NPP satellite. (Credits: NOAA/NASA Rapid Response Team)