ShakeAlert System Continues Progress toward Public Use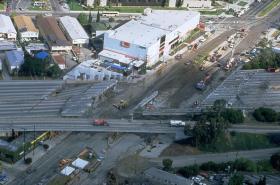 A decade after beginning work on an earthquake early warning system, scientists and engineers are fine-tuning a U.S. West Coast prototype that could be in limited public use in 2018.
In two papers published December 6 in Seismological Research Letters, researchers describe the key components and testing platform for the prototype ShakeAlert system, now being tested in California, Oregon and Washington.
The development of ShakeAlert has shown that a dense network of seismic stations, swift transfer of seismic data to a central processing and alert station, speedy paths for distributing alert information to users, and education and training on how to use the alerts are all necessary for a robust early warning system, said Monica Kohler, a Caltech research faculty member in the Department of Mechanical and Civil Engineering.
Although ShakeAlert was developed for the West Coast, a similar system could be used for earthquake early warning in places such as Alaska, Hawaii and even in places such as Oklahoma where induced earthquakes are the main source of seismic damage. "We have been getting questions along the lines of 'can we try your system where we live?' or 'can we port your system over?'" Kohler said. "The answer in theory is yes, but there have to be these certain key elements in place."
Read more at Seismological Society of America
Photo credit: Robert A. Eplett via Wikimedia Commons