Want to Beat Antibiotic-Resistant Superbugs? Rethink Strep Throat Remedies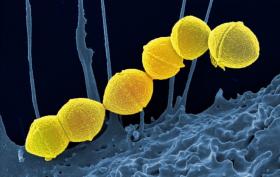 Got a sore throat? The doctor may write a quick prescription for penicillin or amoxicillin, and with the stroke of a pen, help diminish public health and your own future health by helping bacteria evolve resistance to antibiotics.
It's time to develop alternatives to antibiotics for small infections, according to a new thought paper by scientists at the Georgia Institute of Technology, and to do so quickly. It has been widely reported that bacteria will evolve to render antibiotics mostly ineffective by mid-century, and current strategies to make up for the projected shortfalls haven't worked.
One possible problem is that drug development strategies have focused on replacing antibiotics in extreme infections, such as sepsis, where every minute without an effective drug increases the risk of death. But the evolutionary process that brings forth antibiotic resistance doesn't happen nearly as often in those big infections as it does in the multitude of small ones like sinusitis, tonsillitis, bronchitis, and bladder infections, the Georgia Tech researchers said.
Continue reading at Georgia Institute of Technology
Image: Group A Streptococci, CREDIT: NIAID