Tropical Cyclone Joyce Makes Landfall on Australia's Pilbara Coast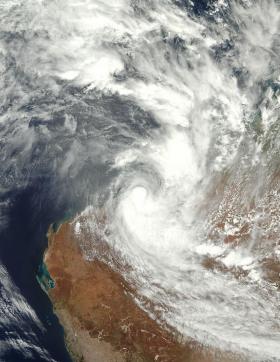 NOAA's JPSS-1 satellite provided a visible image of the tropical storm after it made landfall along the Pilbara Coast in the northwestern part of Western Australia.
On Jan. 12, the Australian Bureau of Meteorology (ABM) posted warnings from Sandfire to De Grey, and inland parts of the northeast Pilbara including Marble Bar. A Blue Alert is in effect for people in areas south of Wallal Downs to De Grey and inland to Marble Bar. That means that residents in those areas need to prepare for cyclonic weather and organize an emergency kit including first aid kit, torch, portable radio, spare batteries, food and water.
On Jan. 12 at 12:36 a.m. EST (0536 UTC) NOAA's JPSS-1 or NOAA-20 satellite showed Joyce's compact center along the coast and bands of thunderstorms wrapping into the center were mostly east and south of the center over Western Australia.
At 10 a.m. EST (1500 UTC) on Jan. 12 the Joint Typhoon Warning Center issued their final warning on Tropical Cyclone Joyce. At that time Joyce had maximum sustained winds near 45 knots (51.7 mph/83.3 kph). It was centered near 20.7 degrees south latitude and 119.4 degrees east longitude. That's about 68 nautical miles east of Port Hedland, Australia. It was moving to the southwest at 8 knots (9.2 mph/14.8 kph).
Read more at NASA/Goddard Space Flight Center
Image: On Jan. 12 at 12:36 a.m. EST (0536 UTC) NOAA's JPSS-1 or NOAA-20 satellite showed Joyce's compact center along the coast and bands of thunderstorms wra pping into the center were mostly east and south of the center over the Pilbara Coast of Western Australia. (Credit: NOAA/NASA Goddard Rapid Response Team/Jeff Schmaltz)