Ecowidget
In just a couple of minutes, you can get Up-To-The-Minute Environmental News to Your Desktop - totally free. With a quick download to your computer every time we publish a story the headline to that story will pop up on your screen - if you are interested just read the instructions below and start getting fresh environmental headlines on your mac or pc today. To get started, just sign up at Twitter and then download a Twitter desktop reader.

Here is an example of free twhirl software desktop client with the ENN news stream.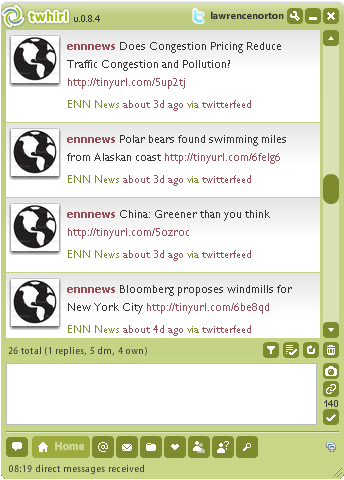 News
Get instant access to ENN's latest environmental news headlines.
Also, With the twitter desktop reader you can add hundreds of news feeds from around the world from the BBC, NY Times, and many more.
After you install your new twitter client just subscribe to
'ennnews'
and you will start to receive headlines within 30 minutes!