McGreen, the Greening of McDonald's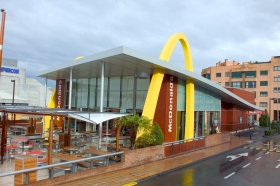 Can McDonald's and "Best of Green" be in the same sentence? At first it sounds like the mockumentary sequel to Best in Show. After all, those big golden arches are not only easy to see from the road, they are still to critics a figurative symbol of a dubious food supply, sprawl and our disposable society. The company is slow to change, too. Not only does it take a new item forever to appear on the menu, but ideas to make the company a more sustainable company are slow to catch on even if they are still just a dream.
But McDonald's is changing. More of its locations are actually pleasant and even edgy, have wifi and are not the drab plastic prisons in which you spent your 1980s teenage years. On other fronts some catching up is still in order, as with its hazardous attempts at social media campaigns that have left its marketers' faces as red as those strawberry sundaes. Across the pond in the United Kingdom, the company's about face and re-about face on sourcing local chicken draw exasperated cries in London and beyond. But around the world, some interesting projects are occurring on waste, energy and green building. 
Here are a few:
Energy efficiency in Japan: In the wake of Japanese cities' - such as Osaka - struggle with electricity demands in a post-Fukushima Japan, McDonald's restaurants in Japan's second largest city are becoming smarter. A combination of 13 different energy-saving technologies including solar power, cogeneration waste heat and heat-shielding paint decreased carbon emissions by over 20 percent.
Wind power in the U.S.: You will not see wind turbines soaring above those golden arches anytime soon, but McDonald's has committed to matching 30 percent of the electricity at its company-owned stores with renewable energy credits (RECs) from American wind power providers. Some may scoff at the purchase of RECs, but that is a still a surprising commitment from the world's largest fast food chain.
McDonald's in Madrid, Spain courtesy McDonad's.
Article continues at ENN Affiliate TriplePundit.