Is Carbon-Free Shipping possible?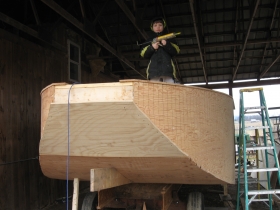 This week a new sailing barge was launched on Lake Champlain that its backers hope will soon be in the vanguard of a new carbon-neutral shipping alternative. The 39-foot Ceres — built by volunteers from the Vermont Sail Freight Project and farmer Erik Andrus — is an update on the type of cargo vessels that once plied the inland waterways throughout the northeastern U.S. Like them, the Ceres will sail without any sort of motorized assistance.
With the Ceres, the Vermont Sail Freight Project, which is supported by the nonprofit Willowell Foundation, hopes to prove that carbon-neutral boats can be a viable shipping method for the 21st century, connecting small-scale farmers in Vermont and upstate New York with customers along the Hudson River south to New York City — all while reducing the substantial greenhouse gas emissions that come from conventional shipping of produce, which is dominated in the region by trucks.
For the next few weeks, the Ceres — which consists of a flat-bottomed plywood box hull covered in fiberglass and a rig borrowed from traditional English Thames barges — will undergo testing on Lake Champlain. If all goes as planned, this fall it will begin its 300-mile maiden voyage down the Hudson to New York, delivering pre-ordered shelf-stable produce to customers along the route.
With no refrigerator onboard, the Ceres will have to carry goods that will last the approximately 10-day trip without losing quality. Grains, dry beans, preserves, onions, squash, and potatoes will make the trip. Without a fixed sailing schedule, customers will learn their orders are approaching by phone, text, or email.
Though a blip on the transportation radar, the Vermont Sail Freight Project (VSFP) is one of a growing number of efforts to revive sail-powered transport in connection with sustainable agriculture, in both the United States and Europe.
Photo of Ceres under construction courtesy of Vermont Sail Freight Project.
Read more at Yale Environment360.