Lucky to Find a New Dragon Tree Species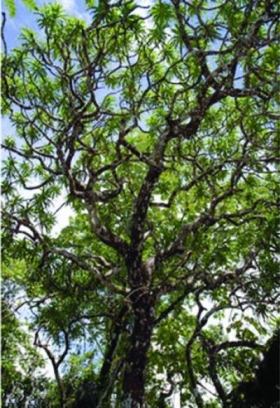 The Dracaena kaweesakii, thought to bring luck to the Thai people who have them in their households, has recently been identified as a new species within the group Dracaena. These beautiful trees are often associated with Buddhist temples. Researchers led by Paul Wilken, of Kew Royal Botanical Gardens and Piyakaset Suksathan have identified the morphologically distinct element of the plant group from Thailand and Burma. An undifferentiated leaf sheath, the lack of a leaf blade central costa, free tepals and thickened filaments, characterizes the newly identified species.
The species is most closely identified with the Dracaena cambodiana, Dracaena cochinchinensis and Dracaena yuccifolia and is part of a total of 15 species of Dracaena in Thailand.
Dracaena kaweesakii features up to several hundred branches all spreading and dividing with white leaf sheaths. These turn brown when dry and they lack the yellow or dark brown pigmentation when fresh. It has a tree-like habit and generally grows to 3-6 m in height but can grow to be as large as 12m. the tree's crown has an equally wide diameter.
The brown, grey or ash-white corky-fissured trunk base is about 1 m in diameter. Soft sword-shaped leaves are arranged in dense clusters of 20-50 leaves at shoot apices. The leaf shape is more specifically described as ovate to ovate-triangular and white sometimes with irregular red dried sap markings. Cream colored flowers have bright orange filaments. The tree grows in limestone karst often on ridge tops or slopes throughout most of Thailand and Burma. Elevation generally affects the density and vigor of the branches and leaves.
One of the main threats to the species is the destruction of its habitat as the limestone is used extensively for concrete. Further because of the beauty of the tree's known beauty, it is often extracted from its native surroundings to be placed in gardens. These two things limit its natural distribution. And while there yet is no direct evidence of over-extraction, sustainability studies are needed to insure the protection of this beautiful species.
More details with regard to Paul Wilkins study of this species and his methodologies can be found at PhytoKeys.
Dracaena kaweesakii tree image from Paul Wilken.