Why can't you walk to the big game?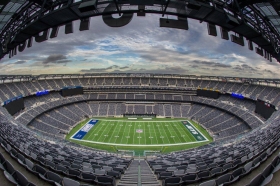 Super Bowl XLVIII, featuring my archenemies the Seattle Seahawks against the Denver Broncos, is about to go down. Millions of fans will be gathering around TV screens across the country to watch, but of course the best experience of all is available to those who get to see the magic in person at MetLife Stadium. Better yet, organizers are touting this as the "greenest Super Bowl ever," with initiatives like composting, low water landscaping, Energy Star Certified equipment, donation of leftover food, a massive solar panel installation, and the use of recycled steel in construction.
In other words, you'd think these guys are pretty serious not just about sports, but also the environment, with all this hard work to make the match as eco-friendly as possible. We're seeing the same kinds of initiatives in Sochi for the Winter Olympics, as well as Rio, indicating that in the sports world, green is in. Which is exciting news for those of us who like the Earth and think it should stick around in habitable form a little longer.
That's why I was shocked to hear that despite all the green initiatives going on, patrons are not going to be allowed to walk to the Super Bowl. Biking and walking, as we know, are the most environmentally-friendly ways to get around, so you'd think they'd be methods of choice for the Bowl, but no go on the walking, my friends: NFL Commissioner Roger Goodell says that walking poses too much of a "safety concern" and he doesn't want to see fans being injured on their way to the event.
Fair enough on the surface, but let's dig a little deeper. For starters, people can't even be dropped off by a vehicle at the stadium unless the vehicle has a parking permit — on the surface, this seems like a good idea, because it discourages people from taking private cars to the game, but it also implies that walking is really, really not desired. It's also hard on people like disabled fans who might need to take private transit due to accessibility issues. Mass transit can be a nightmare with a wheelchair, walker, or cane when it's crowded, and a private car may be the only option in these cases. Furthermore, some VIPs aren't too pleased either, as they want to be able to take private hire car services to the game and now they can't — unless they're willing to have their cars sit around waiting for them for the duration of the event. 
PHOTO CREDIT: WILLIAM HAUSER / METLIFE STADIUM
Read more at ENN Affiliate, Care2.