Kelloggs goes 'deforestation free'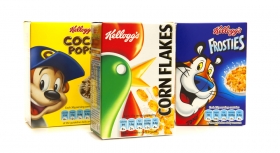 The global cereal giant Kellogg has committed to sourcing palm oil that is deforestation-free. It will also ensure that carbon rich tropical peatlands are preserved.
Kellogg has released a commitment to sourcing palm oil that does not cause deforestation. 
"As a socially responsible company, traceable, transparent sourcing of palm oil is important to us", said Diane Holdorf, Kellogg Company Chief Sustainability Officer.
"We are collaborating with our suppliers to make sure the palm oil we use is not associated with deforestation, climate change or the violation of human rights."
To achieve its goals, Kellogg will require all global palm oil suppliers to trace palm oil to plantations that are independently verified as legally compliant; adherent to the company's principles for protecting forests, peat lands, and communities; and compliant with all Roundtable on Sustainable Palm Oil (RSPO) principles and criteria.
Suppliers must comply with the requirement by the end of 2015, or be working to close any gaps identified in their action plans.
An important step
The Union of Concerned Scientists welcomed the move: "Kellogg's announcement is a step in the right direction, especially after the company was harangued in 2012 for not working with two Girl Scouts who were working towards deforestation-free Girl Scout Cookies."
Palm oil is used in everything from food and fuel to beauty products and cleaning agents. The demand for palm oil has risen dramatically. Such increases in demand are driving increases in deforestation.
Ten percent of all global warming emissions result from deforestation. This practice also destroys irreplaceable forests that are home to endangered species and a resource for forest-dependent communities.
Sharon Smith, Campaign Manager with UCS's Tropical Forest & Climate Initiative, said the initiative will "help pull the industry towards palm oil that is deforestation-free.
Protecting peatlands
"The commitment goes on to address peatlands, carbon-rich areas of decayed vegetation. Kellogg's expressly notes that it will work to protect peatlands and not develop these areas, period.
We were also pleased to see the Kelloggs intends to guard High Carbon Stock forest, areas storing a great deal of carbon.
If companies start demanding palm oil that doesn't contribute to deforestation, isn't grown on peatlands and doesn't exploit human rights, palm oil producers on the ground will start to provide a better product. This better oil will ultimately protect our environment by reducing emissions."
Read more from our affiliate, Ecologist.
Kelloggs cereals image via Jon Le-Bon/Shutterstock.