Turtle Trouble: 20-year study finds large decrease in green turtle catch rates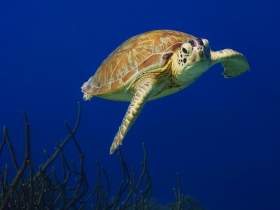 Sea turtle populations have been exploited for hundreds of years, and even though conservation efforts have increased substantially in modern times, populations still suffer across the globe.
In fact, according to conservation scientists from the Wildlife Conservation Society and University of Florida, over-fishing is to blame for more than 170,000 green turtles deaths between 1991 and 2011.
The decreasing trend in catch rates indicates the need for take limits on legal, artisanal green sea turtle fisheries as a 20-year assessment of a Nicaragua's fishery has indicated that overall turtle catch rate is becoming unsustainable.
"The significant decrease in the catch rates of green turtles represents a concern for both conservationists and local, coastal communities who depend on this resource," said Dr. Lagueux, lead author of the study.
Caribbean coastal waters of Nicaragua contain extensive areas of sea grass, principal food source for green turtles, the only herbivorous sea turtle species. Green turtles in turn support a number of indigenous Miskitu and Afro-descendent communities that rely on the marine reptiles for income and as a source of protein.
Over the duration of the assessment, the scientists recorded that at least 155,762 green turtles were caught, and they estimated a total catch of 171,556 turtles. The average catch rate per fishing trip revealed an overall decline from 6.5 turtles to 2.8 turtles caught, representing a 56 percent decline over two decades. 
In individual communities, catch rate declines ranged between 21 percent and 90 percent in green turtles caught over the 20-year period.
"These declining catch rates align with our survival rate estimates of green turtles exposed to the Nicaragua turtle fishery and population modelling, which suggested the fishery was not sustainable at high take levels reported in the 1990s," said Dr. Cathi Campbell.
The steep declines in green turtle catch rates indicate a potential decline of green turtle populations that use Nicaragua's foraging grounds.
"Given the importance of green turtles to Nicaragua's past, present and future, we encourage the communities, governmental agencies, and conservation groups to take measures that conserve and sustain these globally threatened populations, and to work together to ensure that the communities have alternative sources of protein and income into the future," said Dr. Caleb McClennen, Director of WCS's Marine Program.
The study appears in the online journal PLOS ONE.
Read more at the Wildlife Conservation Society.
Sea turtle image via Shutterstock.