Cry for global STEM funding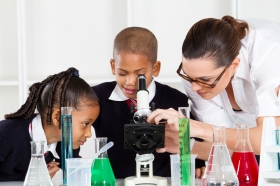 In today's global economy, a workforce trained in science, technology, engineering, and math (STEM) is recognized as a primary driver of growth. Around the world, STEM education initiatives vary in scope, size, type, target populations and funding sources. What's missing is a unified global mechanism for STEM education.
Creating a Global STEM Fund would help support and implement effective and innovative STEM programs in developing countries. The NGO Cosmos Education, the STEM Innovation Camp in South Africa, the African Institute for Mathematical Sciences and the Bunengi STEM Africa are but a few examples of organizations and programs that could benefit.
The new fund would aim to improve the accessibility and quality of STEM education, particularly in the developing world, where the number of STEM programs is likely to increase in future years. To be successful, they will need support — and that means not just funding, but also knowledge about best practices.
Is a fund needed?
Why create a STEM fund and what activities should it support?
Despite recent progress, many parts of the developing world still face shortages of highly trained scientists and engineers. According to the UNESCO science report 2010, African countries had an average of 164 researchers per million people in 2007, more than six times lower than the world average of 1,081 researchers per million.
Poor funding limits universities' ability to set up and maintain well-equipped laboratories; offer high enough salaries to attract science lecturers; and sponsor a greater number of low-income students interested in science and engineering subjects.
The fund we propose would unify existing national and international funding. And it would need initial investment from governments, firms, NGOs and academic institutions.
Private sector backing will be critical — for financial and infrastructure support, the fund would need to work with organizations such as the Global Business Coalition for Education.
Quality and accessibility
But increasing the number of trained scientists and engineers isn't purely a matter of money. In Africa, for example, the general sentiment is that the problems are systemic and include poor accessibility and quality of science education. The UNESCO report also paints a similar picture for many developing countries in Latin America and the Arab world.
The lack of good quality, centralized data on existing STEM programs worldwide is also problematic. The data that do exist are patchy and do not capture indicators such as the types of educational strategies being used, collaborations with industry and universities or how STEM programs affect students in the long term.
Read more at ENN affiliate SciDevNet.
Elementary science class image via Shutterstock.