Alarming data on Arctic Ice Loss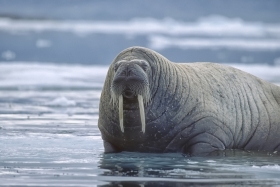 The Antarctic ice sheet has lost ice twice as quickly in the past three years as when it was last surveyed between 2005 and 2010, say scientists.

Results from the CryoSat-2 satellite mission, published today in the journal Geophysical Research Letters, say the largest ice sheet on Earth is now losing 159 billion tonnes of ice each year.
The overwhelming majority is coming from West Antarctica and the Antarctic Peninsula, with the East of the continent responsible for just two per cent of the decline.
Altogether, Antarctic ice loss is now contributing 0.45 millimetres to global sea level rise each year. Between 1993 and 2010, total sea level rise was 3.2 mm per year.
'Although we are fortunate to now have, in CryoSat-2, a routine capability to monitor the polar ice sheets, the increased thinning we have detected in West Antarctica is a worrying development,' says Professor Andrew Shepherd, of the University of Leeds, who led the study.
Read more at Planet Earth Online.