Rainforest coalition proposes rewards for 'avoided deforestation'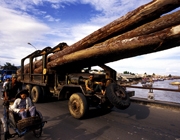 PANOS FEATURES - Nairobi] The Coalition of Rainforest Nations, led by Costa Rica, Papua New Guinea and the Democratic Republic of Congo (DRC), have told the UN climate change summit in Nairobi, Kenya that they want to be rewarded for the vast swathes of rainforest they have left intact.
The Coalition says it wants to receive 'carbon credits' similar to ones given to countries like Brazil, which has chopped down many of its rainforests and is now receiving credits for new plantations.
The carbon credits system evolved out of the Clean Development Mechanism (CDM) of the 1997 Kyoto Protocol. That agreement, aimed at mitigating climate change, assigns emissions targets to signatory industrialized nations, which in turn divide them among businesses involved in large air-polluting activities.
Firms that exceed their targets have an option to 'buy' credits from others who are not using up their full allowance, or offset their excess emissions by "˜buying' an equivalent amount of carbon that is naturally trapped in trees.
The seller must have approved 'carbon credits', which are endorsed under the CDM and given only to new afforestation projects. That, the Coalition says, is wrong.
"The positive impact of [intact] forests has not been taken on by the Kyoto Protocol," complained Georgette Koko, the minister of environment of Gabon, where 70 per cent of forests remain.
"Our sustainable development efforts may be seriously slowed down unless we get the support of the international community for the rational and sustainable use of our forests," she said at the Nairobi conference.
"Central African countries consider that their efforts made in managing forests deserve to be recognized and supported, because they are positive for climate," the Coalition said in its proposal to the UN Framework Convention on Climate Change.
It says the proposal "" which describes the claim for credits as 'avoided deforestation' - should be adopted after the Kyoto Protocol expires in 2012, and a new regime is put into place.
The move has the support of the Washington-based Association for Tropical Biology and Conservation, which calculates that in 2005 "" at the rate of US$20 for a one-ton unit of carbon dioxide "" the forests of the 15 nations were worth around US$1.1 trillion in carbon credits.
Credits for "˜avoided deforestation' are also supported by Kenya's respected Nobel peace prize winner, Wangari Maathai, who said that the Congo basin forests are second only to the Amazon.
"The efforts by their government to retain them should be an incentive for them, instead of them being just observers in the climate change market," she said to reporters at the Nairobi summit.
Maathai added that it was a "serious misrepresentation of climate mitigation that no incentives should be given to these countries".
The rainforest network wants the conservation of its forests to benefit from a tax on large over-polluters, and through any other fund that the Convention might build up. Costa Rica already has a similar tax on fuel, the money from which goes towards small landowners and local communities to keep their forests intact.
The Rainforest Coalition does have opponents, among them India, a strong member of the G77 developing-nations alliance.
"There are too many scientific uncertainties present to support primary forest in the carbon market today," commented India's Secretary of the Environment, Dr Prodipto Ghosh, on the sidelines of the Nairobi conference.
"It is not our intention that those taking steps to reduce deforestation should not be awarded, but this cannot be through the carbon market", Ghosh stated.
But the DRC's Kasulu Seyas Makonga is equally determined. "We will push for our stand till we get it, because we believe it to be fair," he said.
This feature is published by Panos Features and can be reproduced free of charge. Please credit the author and Panos Features and send a copy to Panos Institute, 9 White Lion St, London N1 9PD, UK. Email: media@panos.org.uk