New Rules Aim To Protect Public From Dangerous Big Cats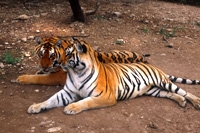 YARMOUTH PORT, Mass. - A new law took effect today making it illegal to ship large, dangerous cats - tigers, lions, leopards - across state lines. Legal technicalities have kept the law in limbo as the U.S. Fish and Wildlife service crafted regulations to enforce it. Those regulations are now complete and will go into effect on September 17, 2007. The law called the "Captive Wildlife Safety Act"
The passage of the Captive Wildlife Safety Act -- which happened shortly after the International Fund for Animal Welfare, (IFAW) engaged in a high-profile confiscation of 24 full-grown tigers from a suburban New Jersey home -- became necessary due to the high number of dangerous animals being purchased and shipped across state lines. As the new regulations explain, "Statistics show a considerable number of injuries or deaths attributable to big cats. This number is likely to increase as the ownership of big cats increases in popularity, with many of the specimens ultimately being placed in sanctuaries that are accessible to the general public."
"Implementation of the Captive Wildlife Safety Act is a good first step to protect the public and curb the rising numbers of big cats across America in backyards and roadside petting zoos," said Josephine Martell, a campaigner for the International Fund for Animal Welfare (IFAW). "Although the regulations prohibit contact between big cats and the public at facilities they define as sanctuaries, more stringent legislation is needed to ensure that the public is protected at all USDA licensed facilities that house big cats."
The regulations explain that the public is still at risk from attacks by big cats, particularly by owners that allow the public to come into contact with tigers and other large carnivores. "The law does not address all safety issues with privately owned big cats, although the statute does provide improved safety for the public by limiting the exception for accredited wildlife sanctuaries to those that prohibit contact with the prohibited wildlife species."
Because of the dangers of direct contact with big cats International Fund for Animal Welfare is also championing "Haley's Act," a law which aims to protect the public from attacks by captive big cats at facilities licensed by the U.S. Department of Agriculture. The act is named in memory of Haley Hilderbrand, a 17-year-old high school student who was killed at a USDA-licensed facility by a 550-pound Siberian tiger while being photographed for her senior picture.
Haley's Act would amend the Animal Welfare Act and prohibit direct contact between the general public and big cats, including lions, tigers, leopards, cheetahs, jaguars, cougars and hybrids. The bill does not discourage public display of big cats in accredited zoos, or housing big cats in legitimate sanctuaries, but rather seeks to strengthen safety for the public. It also significantly increases fines for violations of the AWA to further encourage facilities to abide by the law and treat the animals well.
It is estimated that there are currently more than 10,000 big cats held captive in the U.S. In recent years, captive big cats have killed more than a dozen people and injured more than 50 people. Many big cats are owned by individuals or organizations that have been licensed by the USDA to exhibit, breed, or sell these dangerous wild animals. However, the AWA does not allow for USDA to address risks to public safety, nor does it firmly prohibit direct contact between the public and big cats. Haley's Act would correct this.
Founded in 1969, International Fund for Animal Welfare works around the globe to protect animals and habitats promoting practical solutions for animals and people.
To learn more: www.ifaw.