Hurricane Dean Strengthens in Eastern Caribbean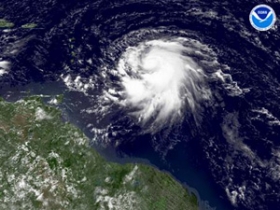 NEW YORK - Hurricane Dean was upgraded to a powerful Category 3 storm on Friday afternoon as it continued to churn across the eastern Caribbean, and further strengthening was expected during the next 24 hours, the U.S. National Hurricane Center said.
At 1:45 p.m. EDT, Dean was located about 175 miles west of Martinique and about 300 miles southeast of San Juan, Puerto Rico.
With peak sustained winds climbing to 125 miles per hour, Dean was moving west at about 22 mph and could strengthen into a Category 4 storm with winds of 131 mph or higher on Saturday as it crossed the Caribbean on a track towards Jamaica, the NHC said.
Most computer models show Dean heading across the northern Caribbean, then skirting the northern tip of Mexico's Yucatan Peninsula before making landfall at the Texas-Mexico border.
But one of the models show the storm shifting to a more northerly track closer to offshore Texas oil production platforms, then landing somewhere near the refining hub of Houston.
The NHC said it expected Dean to weaken back to a Category 3 hurricane early Tuesday after crossing the northern Yucatan and moving into the western Gulf of Mexico.
The NHC will issue its next advisory at 5 p.m.