Four (Green) Stars at Kimpton Hotels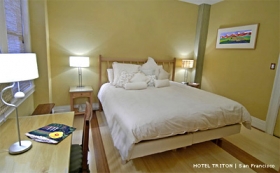 "We know that we can still perform at a high level using our skills, resources and intelligence to operate our business and, at the same time, make a positive contribution to save the planet. We know this because we are already doing it with success stories across the country." - Kimpton website
Recently, we pondered the inefficiency of a standard hotel room. Here we have an example of a supra-standard boutique hotel company that considers their environmental impact in all of their operations, from their sustainable buildings, down to their organic shampoos and natural cleaning products. And they haven't just jumped on the green bandwagon, they've been doing this since 1985.
Kimpton Hotels, based in San Francisco with over 40 three- and four-star boutique hotels around the US, has made a life-long commitment to environmental responsibility. They've proven that operating with sustainable values won't stop them from delivering a premium guest experience. In fact, polled hotel guests say they are loyal to Kimpton because they appreciate the sustainable ethic. A good portion of their clientele are business travelers whose companies have also adopted CSR strategies, and are committed to consuming products and services with the least impact.
You won't hear about their green initiative on a flashy ad campaign, because Kimpton doesn't advertise. What they save in the marketing department, they spend on programs for employees and enhancing guest experience, through programs like their EarthCare program.
Through this initiative, Kimpton provides in-room recycling, donates beverage bottled to local charities, prints with soy-based inks on recycled paper, offers organic snacks, gives guests the opportunity to re-use towels and linens, and serves only organic, shade grown and free trade coffees. These are things that any hotel could (and should) do at little or no additional cost, and Kimpton doesn't stop there.
Despite encountering 8 different densities of water among their various locations, Kimpton tweaked formulas for natural cleaning products until they found customized solutions for each water type. Hotels have installed low-flow faucets, shower heads and toilets and audit their water usage. Lighting retrofits (in the back of house) conserve energy, paperless check-in and -out saves paper, and offering recycled and organic products in their gift shops creates demand for those types of products. According to their website, every three months, new products and practices are introduced to EarthCare.
From their website: "Whether you are an activist or active, hippie or hip, or simply hope to do good in the world while doing something good for yourself - we invite you to enjoy a Kimpton boutique hotel."
Original article from One Shade Greener.