Hurricane Dean: Deadly Category 5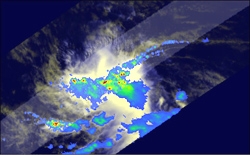 MIAMI - Hurricane Dean is expected to grow into a ferocious Category 5 storm as it passes Jamaica and nears Mexico's Yucatan Peninsula and the oil and gas rigs of the Gulf of Mexico after it smashed into several Caribbean islands, the U.S. National Hurricane Center said on Saturday.
With top sustained winds of 150 mph early on Saturday, the hurricane center said Dean was a Category 4 storm, the second-highest level on the five-step Saffir-Simpson scale and capable of widespread destruction.
The hurricane center said it was expected to strengthen to Category 5, with top sustained winds in excess of 155 mph, before plowing directly over Jamaica toward the Gulf, home to a third of U.S. domestic crude oil and 15 percent of natural gas production.
At 5 a.m. EDT on Saturday, the hurricane center said several consensus models saw the storm moving toward the northern Yucatan and northeastern Mexico, and the projected track was "nudged a little south of the previous forecast in best agreement with consensus models".
A hurricane warning likely will be posted for Jamaica later on Saturday, it said. The core of the storm will pass south of the Dominican Republic later on Saturday and south of Haiti in the evening, it said.
Dean roared through the narrow channel between the Lesser Antilles islands of St. Lucia and Martinique early on Friday, crossing from the Atlantic Ocean to the warm Caribbean Sea.
SKITTISH ENERGY MARKETS
Its progress was being watched by energy markets, which have been skittish about hurricanes since powerful storms in 2004 and 2005 disrupted oil and gas production. Transocean, Royal Dutch Shell, Murphy Oil and other companies pulled dozens of workers from offshore rigs.
Dean, the first hurricane of what is expected to be an above-average Atlantic season, lifted the roof off the pediatric wing at Victoria Hospital in St. Lucia's capital, Castries, but patients had already been moved, officials said.
Heraldine Rock, an ex-government minister in the former British colony of 170,000 people, said the storm ripped roofs off houses and damaged at least two banana plantations.
"In one village, telephone and power lines are down. They're strewn all over the road, trees are uprooted and are blocking the roads," she said. "In another village, a landslide has been reported, cutting off any access to the airport."
Deputy Prime Minister Leonard Montoute said at least two people were injured when a tree fell on their home.
"I'm told that the coastal areas have taken a severe battering. There's debris all over Castries in the capital and flood waters on the roads," he said.
On neighboring Martinique, an elderly man died of a heart attack during the storm and six people were injured. The hurricane destroyed all the banana plantations, which employ 10,000 of Martinique's 400,000 residents, and wiped out 70 percent of the sugarcane farms, said Christian Estrosi, France's secretary of state for overseas territories.
"In economic terms the damage is large and even dramatic," said Estrosi, who planned to travel to Martinique on Saturday to announce emergency aid measures.
Dean's projected path would put it directly over Jamaica on Sunday and near Mexico's Yucatan Peninsula or straight into the Gulf of Mexico through the Yucatan Channel by Tuesday.
If it crosses the Yucatan, it is projected to emerge in the southern Gulf and could disrupt operations in the Cantarell Complex of Mexican oil fields, which is one of the world's most productive and supplies two-thirds of Mexico's crude oil output.
Computer models have fluctuated between an eventual landing as far north as Louisiana, and Belize, at the southern end of the Yucatan, but began to shift generally more to the south late on Friday.
Forecasters have predicted the six-month 2007 hurricane season would be more active than average with up to 16 named storms. An average year historically has 10 or 11 storms.
(Additional reporting by Michael Christie in Miami, Linda Hutchinson-Jafar in Port of Spain, Laure Bretton, Kerstin Gehmlich and Thierry Leveque in Paris)