Bush Approves Pre-Landfall Emergency Over Dean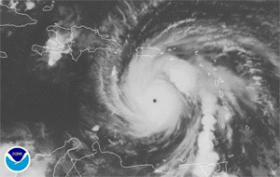 KINGSTON/CRAWFORD, Texas, (Reuters) - President Bush on Saturday approved a pre-landfall emergency declaration for Texas in case the state is hit by Hurricane Dean, White House spokesman Gordon Johndroe said.
The emergency declaration, which was requested by the governor of Texas, will allow the federal government to move in people, equipment and supplies now in the event the state is hit by the hurricane, he said.
Millions of people were under storm alerts in some of the most populous areas of the Caribbean, including parts of vulnerable Haiti and its teeming capital, Port-au-Prince, the Dominican Republic, Cuba, and all of mountainous Jamaica, which was in the direct path of the powerful hurricane.
With sustained winds of 150 mph (240 kilometers per hour), Dean was a Category 4 storm, the second highest level on the five-step Saffir-Simpson scale of hurricane intensity.
It was expected to become a Category 5 storm within two days, with sustained winds of more than 155 mph (250 kph).
Jamaica's government urged people to flee low-lying and landslide-prone areas, buses were marshaled to transport evacuees and police and troops were put on alert.
Political parties suspended campaigning for August 27 national elections. Lines formed at gas stations, and people crowded markets, emptying shelves of batteries, canned tuna, rice and bottled water.
"The country is on high alert," said Kerry-Ann Morris, a spokeswoman for Jamaica's disaster preparedness office. "Hurricane Ivan three years ago is a very strong memory for a lot of Jamaicans and it was a very scary moment."
Dean's progress was being watched by energy markets, which have been roiled by hurricanes since powerful storms in 2004 and 2005 disrupted oil and gas production. Energy firms evacuated workers from offshore rigs in the Gulf of Mexico, home to a third of U.S. domestic crude production.
VULNERABLE HAITI
Dean's destructive core was expected to stay off Haiti's south coast. But tropical cyclones frequently trigger deadly flash floods and mudslides in the deforested, poverty-stricken country of 8 million people. A brush with Tropical Storm Jeanne in 2004 killed nearly 3,000.
At 2 p.m. EDT (1800 GMT), the center of Dean was located 505 miles east-southeast of Kingston, Jamaica, and was moving to the west-northwest at 17 mph (27 kph), the U.S. National Hurricane Center said.
Dean trampled Martinique, St. Lucia and Dominica on Friday with 100 mph (160 kph) winds and torrential rain that triggered landslides, lifted roofs off houses and knocked out power.
The Caribbean Disaster Emergency Response Agency reported three people were killed in Dominica and St. Lucia.
French authorities said two elderly people died during the storm on Martinique, one of a heart attack.
Dean destroyed all of Martinique's banana crop and 70 percent of its sugar cane. Around 80 percent of the banana plantations in nearby Guadeloupe were also destroyed, causing $161 million in losses there.
Mexican authorities began evacuations on the Caribbean coast, moving 2,500 people from the island of Holbox.
Category 5 hurricanes are rare. Until the record-breaking 2005 Atlantic hurricane season, records showed only two years -- 1960 and 1961 -- with more than one Category 5 storm.
But in 2005, four hurricanes reached that strength -- Emily, Katrina, Rita and Wilma. Wilma became the most powerful hurricane ever observed in the Atlantic.
Across the region, fishing boats were ordered into port, tourists scrambled to get out and residents got ready.
"We can't get visas for the U.S. because we are from India. So we are going to stay in our townhouse for the storm," said Uma Kumar in the Cayman Islands. "It got a foot a water in it from Hurricane Ivan so if it floods we will move upstairs."
(Additional reporting by Michael Christie and Jane Sutton in Miami, Manuel Jimenez in the Dominican Republic, Shurna Robbins in the Cayman Islands, Carole Beckford in Kingston and Anna Willard in Paris)