High-End Furniture Line Goes Green Across Entire Product Line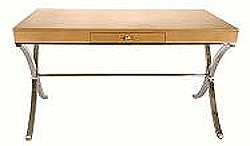 ATLANTA—Decca Hospitality Furnishings announced that it will convert its entire product line of high-end and custom furnishings to new, environmentally conscious green standards by the end of this year. This action reflects a corporate culture at Decca that is mindful of the environment across its business practices, while underscoring the need for all companies to be good stewards of our environment.
Decca's manufacturing operation will be the first in Asia to meet these rigorous environmental standards. The company's initiative will also ensure that its products contribute points toward the U.S. Green Building Council's LEED rating systems and the Green Building Initiative's Green Globes certification. Most important, unlike many other manufacturers that create a standard product line and offer green alternatives, Decca Hospitality Furnishings will convert is entire product line to meet these standards of sustainable design.
"This is unprecedented in the hospitality furniture market, but it reflects our continuous quest for excellence in the products and services we offer to our valued customers," says Nick Hart, president and CEO of Decca Hospitality Furnishings, who added that top hotel operators were closely involved in developing the plan. "We worked in partnership with our industry-leading clients, like Four Seasons, to chart a course that applies impeccable environmental processes to better serve the greatest hotels in the world."
Among those participating in partnership was Bob Skyvington, vice president of procurement for Four Seasons Hotels and Resorts.
"We are committed to developing and operating the best hotels with the utmost care to environmental issues, through both training and purchasing choices," Skyvington says. "With suppliers like Decca, we have partners committed to that process."
A Wise Business Strategy
"We believe this is the right thing to do," says Richard Herbst, deputy managing director of Decca Holdings Limited and president of Decca Furniture USA. "It's good for the environment, but it also makes good business sense. Our goal is to change our manufacturing process with minimal or no increase in prices while ultimately offering our clients better, more sustainable products."
Decca's move to green involves a series of refinements to its furniture products as well as process improvements. From the raw materials used to create the products to the waste disposal of shipping materials, Decca is creating a new benchmark of excellence and quality for designers and customers around the world. For Decca's customers, this contributes points toward the LEED and Green Globes rating systems.
"These changes make clear our commitment to the environment and to our customers who are seeking responsible manufacturing partners with the highest quality products," Hart says.
Furniture and fixtures produced by Decca will utilize rapidly renewable and sustainably harvested wood, post-consumer recycled content, and low-emitting paints, coatings, adhesives and sealants. In addition, the company is adopting new construction-waste management practices, and will use packaging and shipping materials that are reusable, recyclable or compostable.
To undertake this significant change in company policy and operations, Decca has contracted with the respected Pittsburgh and Las-Vegas-based consultant Energy and Environmental Solutions, Inc. (E2). "Decca is setting itself apart from other manufacturers in the industry," says Chris Klehm, a principal with E2 Solutions. "For a company of this size to take on a massive overhaul of its product line is a sign of leadership. This is the way of the future, and we are pleased to be a partner with such a forward-thinking company."
Go to Decca.
Home | Privacy Policy | Terms of Use | Advertising/Media Kit | RSS | Contact Us