Recycling Styrofoam: 15 Million Pounds Diverted From Northeast Landfills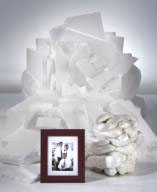 LIVERPOOL, N.Y. - A New York furniture company has found a second life for what once use dto go to landfills: packaging styrafoam. Some of the recycled byproducts are made into consumer household plastic items such as picture frames, egg cartons, lunch trays, video and audio cassette casings as well as bathroom fixtures including countertops, sinks and tub/shower surrounds.
The company, Raymour & Flanigan Furniture's owners are turning the material into picture frames and egg cartons. Neil, Steve and Michael Goldberg initiated efforts to recycle and save Northeast landfills from handling over 15.2 million pounds of waste produced in one year.
"Furniture ships from our manufacturers in cardboard, plastic and Styrofoam packaging," explains Michael Goldberg, Executive Vice President. "Considering we sell on average 8,000 pieces of furniture each day, we generate a lot of recyclable material," he states.
Raymour & Flanigan owners decided to renovate a 41,000 square foot recycling center on their main campus to handle the material. What used to be sent to landfills is now sent to the Recycling Center in Liverpool New York for handling and processing. The recycled materials are used by other manufacturers to create new consumer products. Starting with a reduction process known as heat extrusion, technicians at Raymour & Flanigan take clean bulk Styrofoam; send it through a special processing unit which reduces it to 10% of its original size to make an end product called an "ingot" weighing approximately 50 pounds. Ingots are shipped to manufacturers instead of area landfills.
Since launching in 2002, Raymour & Flanigan has processed millions of pounds of packaging materials. In 2007 alone, Raymour & Flanigan is on track to recycle
-- 700 thousand pounds of Styrofoam
-- 13.2 million pounds of cardboard
-- 1.3 million pounds of plastic
Says Senior Vice President of Distribution Jeff Lannier, "Our Recycling Centers process all cardboard and Styrofoam generated from our entire market area in the Northeast. All plastics are recycled at our respective Customer Service Centers and bales of plastics are then consolidated at the main recycling facility."
Lannier continues, "We have three Styrofoam processing units running six days per week. Our technicians can produce approximately 100 ingots per day, equivalent to 7 full trailers of Styrofoam that would otherwise go into a landfill. When we produce a 40,000 pound load, the material is bagged and shipped to a manufacturer." A typical trailer load of unprocessed Styrofoam holds 700 pounds which results in 14 ingots. The company anticipates processing approximately 700,000 pounds of Styrofoam this year, approximately 1,000 trailer loads.
"Employing green practices is part of our mission to take care of our communities," says CEO and President Neil Goldberg. "We support our customers' concerns to be environmentally responsible. Very little waste discarded in today's modern landfills biodegrades, especially Styrofoam and we don't want to add to this growing problem. Raymour & Flanigan is proud to make our corner of the world a little more eco-friendly with our Recycling Center," Goldberg states.
"We began recycling in 2002 at our distribution centers in Liverpool and Gibbstown New Jersey," says Steve Goldberg, Executive Vice President. "As our packaging volume increased with our company growth, we decided to create a permanent Recycling Center on our main campus to process all this waste material. We added three new positions since February for a total of nine associates."
Raymour & Flanigan has 72 locations in the Northeast in New York, New Jersey, Pennsylvania, Delaware, Connecticut and Massachusetts.