Skoll Awards for Social Entrepreneurship - Guidelines Posted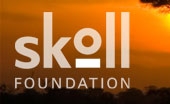 The Skoll Foundation (created by Jeff Skoll, the first employee and first President of eBay) is now accepting new applications for its social entrepreneurship awards. These three-year awards "support social entrepreneurs whose work has the potential for large-scale influence on critical challenges of our time: environmental sustainability, health, tolerance and human rights, institutional responsibility, economic and social equity, and peace and security.... Skoll social entrepreneurs are innovators who have tested and proved their approach and are poised to replicate or scale up their work."
Past recipients include an impressive group of social enterprise pioneers: Benetech, College Summit, Global Footprint Network, Institute for OneWorld Health, Room to Read, and TransFair. It is worth a visit to the site to learn about the enterprises they have supported in the past. Even if you are not quite ready to compete for this award, it is a good one to keep on your radar.
To be considered for funding in advance of the 2008 Skoll World Forum, applicants must submit their Online Application no later than September 24, 2007.