Virgin's Branson to Shun Thirsty 4-Engined Planes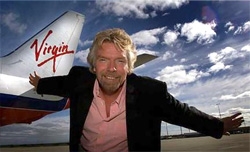 LONDON - Virgin Group boss Richard Branson said on Friday he would aim to avoid buying fuel-thirsty four-engined airplanes in future for both economic and environmental reasons.
Virgin Atlantic's fleet of 38 planes all have four engines, and it has six four-engined Airbus A380 superjumbos on order.
But in April the airline announced it was buying 15 of Boeing's new fuel-efficient carbon-composite 787 Dreamliner jets with 2 engines.
The Dreamliners will burn around 27 percent less fuel per passenger than the Airbus A340-300s they will replace, Virgin says.
"Global warming has become a priority, but it also makes good economic sense to be eco-friendly," Branson told reporters, adding that he favored 2-engined jets for the future. "We've just announced the 787, which has two engines."
In the past Branson favored four-engined planes because he said passengers, staff and pilots preferred them.
Virgin is developing biofuels for aircraft alongside Boeing and engine-maker GE Aviation and plans to test them next year.
"We've said we will fly a jet engine on a 747 using biofuels sometime next year, people say the end of next year," said Branson. "But I believe we'll be able to bring that forward. We have to make sure it's economically vaiable to roll out across the Virgin fleet."
Branson has a 51 percent stake in Virgin Atlantic as well as smaller stakes in Australian airline Virgin Blue, U.S. low-cost airline Virgin America and Virgin Nigeria.