Baby Yoga, Made Easy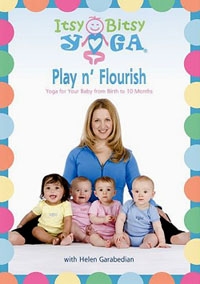 COLUMBUS, Ohio, - It's called Itsy Bitsy Yoga. As the name implies, it's yoga for babies, taught to mom and baby via DVD. The DVD introduces babies to yoga routines that can help them learn to stretch, roll and crawl, while helping moms better understand their babies' physical development and abilities.
The instructional DVD is produced by a yoga enthusiast, Helen Garabedian and sponsored by Abbott, who makes Similac Organic infant formula. Garabedian is the mother of a toddler, and a Hatha Yoga teacher, infant massage instructor, and one of the first professionals to be certified as an infant developmental movement educator.
A recent survey of fitness providers found a 40 percent increase in demand for parent-baby fitness classes(1). Additionally, research shows that having a baby triggers greater attention to health and nutrition issues(2). "New moms really want to share a healthy lifestyle with their babies," says Garabedian. She's also a member of a Education and promotion group called the Similac Moms Alliance community network. "A healthy diet, combined with physical activity, is important for both mom and baby to grow strong," she says.
The DVD offers fun ways for moms to help calm, bond and play with their babies. The DVD demonstrates the most popular poses. The tape is the latest product in Garabedian's yoga line, which includes other books and baby-yoga attire. The DVD retails for $19.99.
To read more: http://www.similacmomsalliance.com/.