Gorillas Making Comeback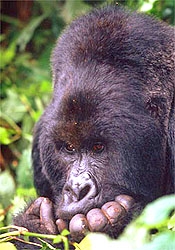 Democratic Republic of Congo - A World Wildlife Fund census shows the population of mountain gorillas in the Virunga montane forests is rising. Led by the WWF-funded International Gorilla Conservation Program, has recorded an impressive 17 percent increase in the population of this highly endangered great ape. The total of 380 mountain gorillas recorded -- up from the 324 counted more than a decade ago -- is an indication of the remarkable results achieved through the dedicated effort and sound conservation initiatives of groups like WWF and the International Gorilla Conservation Program.
The current count, conducted in the mountains bordering the Democratic Republic of the Congo, Rwanda, and Uganda, together with the findings of a 2002 census of the only other mountain gorilla population -- in Uganda's Bwindi Impenetrable Forest National Park -- puts the total number of mountain gorillas in the world at no less than 700. This gradual, but promising rise in population signifies that, just years after standing at the brink of extinction, mountain gorillas are making a comeback in the wild.
"The results are a positive indication of how effective conservation can be accomplished in difficult conditions by closely engaging local people and park authorities in day-to-day activities such as monitoring gorillas and their habitats," says Dr. Annette Lanjouw, International Technical Advisor at the IGCP, a joint initiative of AWF (African Wildlife Foundation), FFI (Flora and Fauna International), and WWF.
Funded by WWF, IGCP has established a ranger-based monitoring system, whereby parks and rangers team up to continuously collect and analyze data on the gorillas and their habitat. The information is fed to park authorities in DRC, Rwanda, and Uganda for their management decisions and plans. According to Lanjouw, data generated in this way has greatly helped focus management and conservation activities to specifically address the threats faced by mountain gorillas.