New Trend - The First Wind Turbine On The Block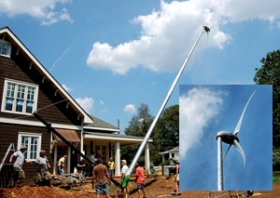 Photo by Roger Cone
MARIETTA, GEORGIA - It may be the first in this Atlanta neighborhood, but definitely isn't the last. Not in Georgia or elsewhere. That's because the small-scale residential wind generator installed last week in the side yard of Christine and Curt Mann, in one of Atlanta's oldest neighborhoods, will generate between 200 to 400 kWh a month on average, helping power the Mann home and eliminate as much CO2 from the atmosphere as an acre of mature, healthy trees. That kind of savings has, as marketers like to say, 'viral' appeal.
The wind turbine, called a "Skystream", was developed by Arizona-based Southwest Windpower in collaboration with the US Department of Energy's National Renewable Energy Lab. The blades are curved and shaped for quiet operation. It is the first backyard-sized wind turbine that includes a built-in inverter and requires no external components. It's a fully-integrated wind generator designed specifically for the grid-connected residential market.
Mounted on a 35 to 100 foot tower, the turbine costs approximately $12,000 to $15,000 installed. Depending on the wind resource, it generates between 30-80% of the power required by a typical home. The Skystream 3.7 was awarded a 2006 Best of What's New award from the editors of Popular Science and included in TIME magazine's 2006 Best Inventions.
The Mann's indeed are including other sustainable energy alternatives in their 1920's-era home that is undergoing major renovations. "I would just encourage people to reach out and look at different alternatives. This is one of many things out there," he said.
Their suburban push to sustainability includes a Brac Greywater Recycling System that takes in household bath, shower and laundry water and then filters and treats it, and re-uses it for toilet flushing. That system potentially saves the Mann family 30% or more on their potable water consumption.
The Mann home is in the Grant Park neighborhood of Atlanta, near Zoo Atlanta and Turner Field, an area not known for high winds. When asked about installation of the wind turbine in this urban setting with relatively low wind speeds, Roger Cone, founder of Southern Energy Solutions, said, "We all went into this project knowing that this was not an ideal placement of the Skystream. Our target markets for the Skystream wind turbine are those areas of Georgia with greater average wind speeds, such as the mountains of north Georgia and the coastal areas of southeast Georgia."
Marietta, Georgia, based Southern Energy Solutions is a dealer of sustainable building products including "green" HVAC systems, greywater recycling systems, LED lighting, solar heating, solar PV, solar thermal and wind turbines. Southern Energy Solutions serves all of Georgia.
For more information:
www.soenso.com
www.skystreamenergy.com
www.bracsystems.com