ConAgra To Act To Limit "Popcorn Lung"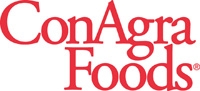 CHICAGO (Reuters) - At least one person has reportedly developed "popcorn workers lung" from an additive in microwave popcorn, U.S. food regulators said on Wednesday, and they are checking to see if popcorn butter flavoring and the lung disease are related.
The Food and Drug Administration received a doctor's report saying a person who ate large amounts of butter-flavored popcorn had the life-threatening lung disease, similiar to an illness that affects workers in plants where microwave popcorn is made, FDA spokesman Michael Herndon said in an e-mailed statement.
"We are currently evaluating the recent information on the association of inhalation of diacetyl with lung disease, and are carefully considering the safety and regulatory issues it raises," Herndon said.
ConAgra Foods Inc, maker of Orville Redenbacher and Act II microwave popcorn brands, said on Wednesday it would drop the food additive diacetyl from its butter-flavored microwave popcorn in the "near future" to safeguard its employees.
The additive has long been linked with a rare lung disease in plant workers.
ConAgra spokeswoman Stephanie Childs said the company has considered removing the ingredient for months to protect employees who are exposed to large amounts of diacetyl, which gives microwave popcorn a buttery taste.
Childs said the company expects to remove the additive "within a year."
"We made that decision in order to provide our employees with the safest work environment possible, but also to eliminate even the perception of concern for consumers," Childs said in a telephone interview.
Shares of ConAgra Foods were down about 2.13 percent at $25.29 late Wednesday afternoon on the New York Stock Exchange.
(Reporting by Julie Steenhuysen)