Tahoe Research Center Among 'Greenest' Buildings In World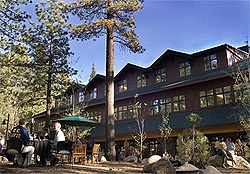 LAKE TAHOE - One of only five such buildings in the world, the new home of the UC Davis Tahoe Environmental Research Center has received a Platinum LEED Certification from the U.S. Green Building Council.
The center is located in Incline Village, Nev., on the north shore of the lake. The Tahoe Center is a 45,000-square-foot facility housing UC Davis's research laboratories, a public education center; Sierra Nevada College laboratories and classrooms; and office space for the Desert Research Institute and University of Nevada, Reno's Academy for the Environment. All of these functions are focused on understanding and preserving the unique ecology of the Lake Tahoe watershed.
In addition to being one of the world's first extraordinarily green labs, the building is the first in Nevada to be rated platinum and one of only 26 such buildings in the world. It was given top marks in subject areas that included sustainable sites, energy and atmosphere, water efficiency, materials & resources, indoor environmental quality, and innovation and design process. It uses 60 percent less energy and 65 percent less potable water than a building of the same function, climate and size designed to current code standards.
LEED stands for Leadership in Energy and Environmental Design. The building council recognizes several levels of energy- and environmental-design excellence; platinum is its highest award.
Key project leaders included:
* Architect Todd Lankenau, principal and managing partner of Collaborative Design Studio (formerly Lundahl & Associates), of Reno, Nev.;
* Bill Starr of UC Davis Architects and Engineers;
* Mechanical engineering by Rumsey Engineers of Oakland;
* Lighting design by David Nelson & Associates of Littleton, Colo.; and
* Electrical engineering by Integrated Design Associates of San Jose.
Elsewhere at the University of California, the Green Building Council recently gave the university's headquarters in Oakland a Silver LEED Certification for green building operations and maintenance efforts.
There are now a total of nine buildings in the UC system with some level of LEED certification.