Philips Introduces Lower Mercury Fluorescent Lamps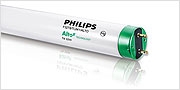 Philips Lighting Company has announced a new line of T-8 fluorescent lamps using the company's Alto II technology to replace its ten-year-old Alto technology.
Each new lamp contains 1.7 mg of mercury, compared to 3.5 milligrams (mg) in each original Alto lamp. "Through some innovative approaches to mercury doses and retention in the lamp technology, we were able to take this next step," said Susan Bloom, director of communications for Philips Lighting. The new technology improves upon Philips' encapsulation of mercury and its chemical barriers that prevent the phosphor coating inside the lamp from absorbing the mercury.
Philips will be incorporating the new technology into all of its T-8 lamps by the end of 2008; the company's T-5 lamps already have very low mercury levels, containing 1.4 mg each. More information is available at