Tropical Storm Gabrielle Hits North Carolina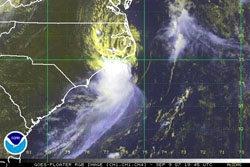 RALEIGH, North Carolina (Reuters) - Tropical Storm Gabrielle buffeted the North Carolina coast on Sunday but was expected to turn back out over the Atlantic Ocean without strengthening into a hurricane, U.S. forecasters said.
The blustery core of the storm came ashore along the Cape Lookout National Seashore shortly before noon, kicking up the surf and bringing scattered showers to the barrier islands known as the Outer Banks, forecasters at the U.S. National Hurricane Center said.
Gabrielle was the seventh named storm of the 2007 Atlantic hurricane season and had top sustained winds of 50 mph (85 km per hour). It was about 45 miles west-northwest of Cape Hatteras, North Carolina, at 2 p.m. (1800 GMT).
Beachgoers in the Nags Head area enjoyed a sunny but breezy afternoon.
"The ocean is rough, but people are on the beach and there are surfers in the water," said Dare County Public Information Officer Dorothy Toolan in Manteo.
Winds and rain were expected to worsen by nightfall as Gabrielle moved north along the coast, but major flooding was not expected.
"It's going to get kind of nasty this evening, but it should be out of here tomorrow morning," Toolan said.
Ferry service was halted between Ocracoke Island and the mainland as the winds notched up, said Danny Styron, operations manager for the North Carolina Ferry Division at Ocracoke.
"We're showing winds at 44 mph (70 kph). We've got a little rain too, but there's not anything here to cause anybody any problems now, but the situation could always change," Styron said.
The storm didn't keep patrons away from Howard's Pub on Ocracoke.
"People are here and having a nice time," said pub owner Ann Warner. "It's windy and the ocean does look a little stormy. I do see a little bit of blue sky up there."
Gabrielle was moving north at 10 mph (17 kph) and was expected to turn northeast and back out to sea Sunday night, the forecasters said.
SEASON PEAK
Gabrielle developed on Saturday as the six-month hurricane season neared its historical peak on September 10, having already produced two of the most ferocious hurricanes to ever tear through the Caribbean, Dean and Felix.
Both those storms became maximum-strength Category 5 hurricanes before slamming into Mexico's Yucatan Peninsula and Central America, respectively.
But conditions off the U.S. East Coast, where Gabrielle formed, are not as favorable for tropical cyclones as the deep warm water of the western Caribbean where Dean and Felix found the fuel they needed to grow into monster storms.
Gabrielle's maximum sustained winds were expected to top out at 63 mph (102 kph), the Miami-based hurricane center said. Tropical storms become hurricanes when their top winds reach 74 mph (119 kph).
The storm was expected, however, to dump between 1 and 3 inches of rain across coastal North Carolina and southeastern Virginia, with some areas receiving up to 5 inches.
Warnings were issued for most of the North Carolina and Virginia coasts, alerting residents to expect tropical storm conditions within 24 hours.
The National Weather Service predicted seas would build to 10 to 12 feet on Sunday, resulting in rough surf and minor beach erosion.
© Reuters 2007. All rights reserved.