Energy Storage: A Building Block For The Power Grid Of The Future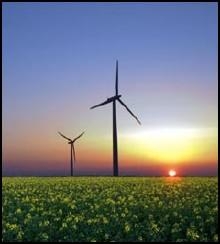 American Electric Power (AEP) claims to be the only US utility company to be using advanced energy storage technologies as part of its electricity infrastructure. The company thinks that other utilities will follow their lead. They're probably correct.
Renewables on the grid, particularly wind energy, are a growing presence. Fortunately, the peak generating period for many wind farms - mid-afternoon into the early evening hours - coincides nicely with the peak demand period for electricity consumption.
Yet that doesn't mean the wind only blows in peak period hours. The wind can blow, and wind turbines can churn, in the wee hours of the morning when electric demand is low, or on weekends when much of the electricity-consuming world is closed for business. Wind energy generated, but not sold, is a waste of wind resources. It's also lost revenue stream for the wind generating company.
Power generating companies may have another source of wasted energy in their portfolios: Conventional powerplants that operate at a steady state capacity 24/7 are generating electricity in off peak hours that is not sold and put to work. If they stored some of this energy they'd be able to sell it, put it work at peak periods. They'd displace some of the peak power they must now generate to meet demand. (This could be considered clean power too, since it would come from an emission-free source (the energy storage technology - like batteries) and may be displacing an emission-producing peak power generator.)
As AEP predicts, others in the power business will be looking for new and better energy storage technologies. An energy storage facility could, possibly, take the place of building a new powerplant.
For itself, AEP has a long term goal of building 1000 megawatts of energy storage capacity: and it will look in every nook and cranny for the appropriate technology to do it, from pumped-storage facilities to flow-batteries to plug-in hybrid vehicles.
In a pumped-storage facility water is pumped to a high elevation at off-peak periods and let run downhill through turbines when needed for power generation during peaks.
Large fleets of cars and trucks with the grid-connect capability for charging - plug-in hybrids - could provide a storehouse for electricity. The company could buy back electricity in the same way utilities buy back net metered solar power from people's homes.
Currently, the company is using stationary sodium sulfur (NAS(R)) battery technology to store power from the grid and is planning to add more storage capacity at sites in West Virginia and Ohio next year. AEP has placed an order for three new NAS batteries with a combined capacity of six megawatts from NGK Insulators Ltd. of Japan. NGK is the manufacturer and co-developer of the technology, along with the Tokyo Electric Power Co.,
Four megawatts of NAS capacity will be divided between the West Virginia and Ohio sites. The company will be seeking a wind farm in its service territory to place the other two megawatts. The company's two existing NAS battery systems are in those states as well.
The value of the new order is approximately $27 million.
The company says that the 1000 megawatt goal for energy storage of all kinds is during the next decade. A smaller, near-term goal of NAS battery storage for at least 25 megawatts is the end of the current decade.
American Electric Power, of Columbus, Ohio. has more than 5 million customers in 11 US states. Its generating capacity is more than 38,000 megawatts.
The grid of the future is perhaps decades away, but you can bet that energy storage will be part of its construction.