Minnesota Form Nation's Largest Community Owned Wind Project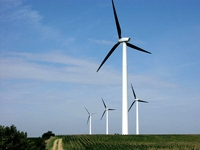 Minnesota - The 300 MW High Country Energy wind farm will be located in Minnesota's eastern Dodge and western Olmsted counties. High Country Energy, LLC was formed by National Wind in partnership with seven members of the community: Barry Rogne, Bryant Hokeness, Dan Hoffman, Eric Lee, Ken Binkley, Kevin Green and Larry Larson.
National Wind will manage the development and construction of High Country Energy.
The project will consist of up to 200 turbines and is expected to come online in three or four phases over five years, beginning in 2009.
The project is also the largest community based energy development (C-BED) project in Minnesota. High Country Energy is expected to qualify for C-BED status, meaning it is owned by Minnesota residents and that 51 percent of the profits are returned to the Minnesota community members over the life of the project.
With C-BED the state of Minnesota created incentives to promote community-based energy developments through its New Generation Energy Act of 2007. The New Generation Energy Act of 2007 requires utilities to commit to allocating space on the grid for 1200MW of C-BED projects by 2025.
High Country Energy will also help meet Minnesota's mandate for 25 percent of its electricity from renewable resources by 2025.
National Wind, headquartered in Minneapolis, Minnesota develops and manages utility scale (50 MW or more) community wind energy projects. National Wind and its development subsidiary, "Wind Energy Developers, LLC," have participated in developing 12 wind energy projects and currently have over 1,000 MW in development throughout Minnesota, Iowa, North and South Dakota.