California Utility Donates $1.2 Million in Solar Installations to Habitat for Humanity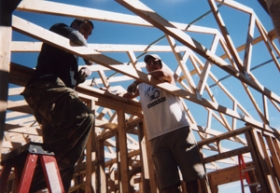 SAN FRANCISCO - Pacific Gas and Electric Company today announced a $1.2 million partnership with Habitat for Humanity International to install solar electric systems on every Habitat-built home throughout PG&E's northern and central California service territory in 2007. The first such partnership of its kind is part of PG&E's commitment to provide affordable, renewable energy in the communities it serves.

"As we work to meet the future of California's energy needs, PG&E is committed to bringing clean and renewable energy to all of the communities we serve," said Bill Morrow, president and CEO, PG&E. "By expanding our partnership with Habitat for Humanity International, we are sending a very clear message -- solar energy can have very real financial and environmental benefits for all of our customers."

PG&E's partnership with Habitat for Humanity International is an expansion of the utility's Solar Habitat Program, which supports low-income families in underserved communities with money-saving solar technology and energy efficiency resources.

"PG&E shares our passion to help families in need," said Mark Crozet, senior vice president of Development, Habitat for Humanity International. "Through this innovative partnership which combines funding, education and employee volunteers, PG&E is helping Habitat to get one step closer to our overall goal of eliminating substandard housing."

The first-of-its-kind $1.2 million partnership will allow for 65 homes to be outfitted with energy-saving solar arrays in 2007. These solar panels will each generate nearly 300kWh of clean, renewable energy from sunlight each month saving the families approximately $500 a year on energy costs. Each panel will also help avoid the release of more than 132,000 pounds of carbon dioxide to the atmosphere over the 30-year life of the system.

PG&E's Solar Habitat Program began in 2005 by donating solar systems on 12 homes supporting the Oakland-based East Bay affiliate of Habitat for Humanity. Since then, the program has expanded dramatically to 18 Habitat affiliates and PG&E-sponsored solar installations on approximately 75 homes. Through this program, PG&E provides expertise, volunteers and charitable grants to help build energy-efficient homes and install roof-top solar powered systems. In addition to lowering energy bills for these families, the program seeks to promote energy literacy throughout underserved communities and increase enrollment in PG&E's free energy assistance programs for low-income families. As a result, Habitat homeowners need to buy less power to meet their basic energy needs which saves them money and protects the environment.

For more than 10 years PG&E has supported local Habitat for Humanity affiliates with more than $635,000 charitable dollars for general operating support, home sponsorship and event sponsorship. PG&E employees have also embraced Habitat for Humanity, volunteering nearly 2,000 hours in the past year alone.

With more than 18,000 customer solar interconnections, representing more than 153 megawatts of generation, PG&E is the leading solar utility in the nation. PG&E proudly provides its customers with among the cleanest energy in the nation. On average, more than 50 percent of the energy PG&E delivers to its customers emits zero carbon dioxide.

PG&E currently supplies 13 percent of its energy from qualifying renewable sources under California's Renewable Portfolio Standard (RPS) program and the company is well on its way to reaching its renewable energy portfolio of 20 percent by 2010. Through its leading energy efficiency and demand response programs, the company has helped prevent more than 125 million tons of carbon dioxide from entering the atmosphere, while saving its customers nearly $10 billion.

PG&E has a long history of making charitable grants tailored to the wide variety of needs of the communities it serves. The company's broader program of support to communities includes cash grants, in-kind contributions, and volunteers for community-based nonprofit organizations, and for schools and other governmental programs throughout northern and central California. This year, PG&E is increasing its support to charitable nonprofit organizations by 25 percent to $18.3 million -- the largest charitable commitment in the company's history. All charitable contributions are entirely funded by the company's shareholders and the level of charitable giving does not affect gas and electric rates.