Australia To Give Farmers More Drought Help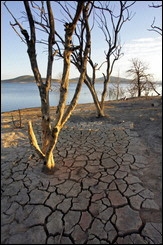 CANBERRA - The Australian government will provide more drought aid for farmers, Prime Minister John Howard said on Friday, after a report showed dwindling water inflows in the nation's food bowl around the Murray-Darling rivers.
Farmers had hoped early winter rains from April to June would mark the end of six years of drought, but low rainfall and high temperatures in August have led to below average flows into the river system, where water storage remains near record lows.
"We are dealing with a genuine crisis," Howard said on Friday.
Howard announced A$430 million ($370 million) in drought aid for farmers a week ago, on top of the A$2.4 billion already provided in recent years, and said the cabinet would decide on more help for "several thousand" farmers at a meeting next Tuesday.
The Murray-Darling basin accounts for about 41 percent of Australia's agricultural production. Irrigators along the Murray-Darling rivers are already facing little or no water allocations due to the prolonged dry weather.
A government report issued on Thursday said the outlook for water availability in the southern basin was serious and had deteriorated throughout August, threatening key crops including grapes, citrus and rice.
It said water levels near the end of the Murray River, which flows into the vast Lake Alexandrina before reaching the sea, were likely to fall, with salinity to rise, increasing the likelihood of significant fish death in the lake.
The Murray River, Australia's biggest, has only reached the sea in the past several years through the help of two sand dredges at its mouth, about 100 kilometers south of the South Australian state capital of Adelaide.
The city of Adelaide, with about 1 million people, relies upon the Murray for the bulk of its water. Local authorities are considering a A$2.5 billion plan to enlarge its reservoirs and build a desalination plant to guarantee future water supplies.
"This drought has gone on much longer than people ever dreamt likely," Howard said. "I know how hard it is hitting.
"What I would say to every farmer is we will get though this only if we work together."
Government agency the Australian Bureau of Agricultural and Resource Economics on Tuesday slashed nearly a third off its official wheat crop forecast due to the ongoing drought.
($1=A$1.16)