Cut out caviar to save the sturgeon: Russia's Ivanov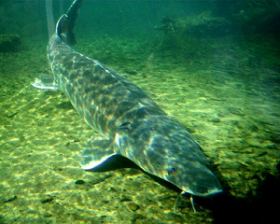 MOSCOW (Reuters) - The rich may have to take black caviar off the menu to let sturgeon stocks recover, Russia's first Deputy Prime Minister Sergei Ivanov said on Friday.
Ivanov, widely regarded as a leading contender to succeed President Vladimir Putin in 2008, said he could do without caviar if sturgeon fishing was banned.
"If we banned catches for a period of time then I would certainly survive," Ivanov told an investment conference in Russia's Black Sea resort of Sochi, RIA news agency reported.
Ivanov, 54, said black and red caviar, and crab meat was not an essential part of an everyday diet and he could do without his caviar "ration" for five to seven years.
"We would repair our national wealth in this time after we so rapaciously annihilated it," Ivanov said.
Most of the world's sturgeon spawn in the rivers that flow into the Caspian Sea. Their unfertilized eggs -- caviar -- are sold by Azerbaijan, Iran, Kazakhstan, Turkmenistan and Russia.
Overfishing, poaching, pollution and poor management have cut sturgeon stocks in the Caspian. Experts say beluga is on the verge of extinction after fish numbers fell by 90 percent over the past 20 years.
High prices for caviar have made the sturgeon a target for criminal groups who control poaching gangs and illegal caviar sales in Russia and abroad.
Beluga caviar, a symbol of ostentatious dining and luxury, costs about $1,400 a kg in Moscow markets but sells for 3,700 pounds ($7,400) a kg in London.
Russian agriculture officials have pressed Putin to declare a state monopoly on the export of black caviar from Russia and to restrict its sale inside Russia to licensed outlets.