New tropical storm seen forming over open Atlantic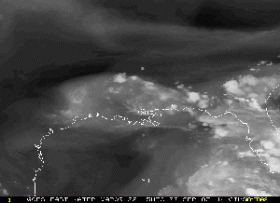 MIAMI (Reuters) - A subtropical depression formed over the Atlantic Ocean on Sunday and U.S. forecasters said it was expected to strengthen into a tropical storm later in the day.
Long-range computer models indicated the storm posed no threat to the United States although it would prove menacing for ships in the open Atlantic, Bill Read, acting deputy of the Miami-based National Hurricane Center, told Reuters.
"It's a shipping threat but only that," Read said.
As of 5 a.m., the depression was located about 1,060 miles
west of the Azores, with maximum sustained winds near 35 mph. The system could become Tropical Storm Jerry if sustained winds reach 39 mph (63 kph).
A subtropical cyclone shares some characteristics with tropical storms and hurricanes but has a cooler core that can slow its development.
Nine named storms have formed in the Atlantic basin so far this year and three of those have become hurricanes. Forecasters had predicted up to 16 storms for the six-month season, which runs from June 1 to November 30.
The 2007 season has also seen, for the first time since records began in 1851, two maximum-strength Category 5 hurricanes making landfall in the same year.
Hurricanes Dean and Felix, which both reached the top rank on the five-step Saffir-Simpson scale of hurricane intensity, hit Mexico's Yucatan Peninsula and Central America in August and September, respectively.