Yes, The Internet Saves Energy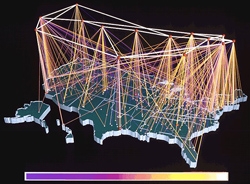 Recently, in this column, I said this, "I don't think there's been a study, and I can't prove it, but I think the Internet is one of the greatest energy saving inventions ever created."
Well, now there IS a study to back up my claim. The Consumer Electronics Association (CEA (tm)) thinks the Internet saves energy too; and it's substantial.
The just-released study commissioned by the CEA and conducted by TIAX LLC of Cambridge, Massachusetts, shows that using electronics to telecommute saves the equivalent of 9 to 14 billion kilowatt-hours of electricity per year – the same amount of energy used by roughly 1 million US households every year.
(Roughly speaking that's also the equivalent of building one million, off-grid all-solar homes. They, too, save or displace electricity ordinarily delivered from the power grid.)
The study, The Energy and Greenhouse Gas Emissions Impact of Telecommuting and e-Commerce, also claims that the estimated 3.9 million telecommuters in the United States have reduced gasoline consumption by about 840 million gallons while curbing carbon dioxide (CO2) emissions by nearly 14 million tons, That's equal to removing 2 million vehicles from the road every year.
Though energy is consumed while staying at home to telecommute or shop, the energy consumed to commute and drive is greater. Telecommuting saves 1.4 gallons of gasoline and reduces CO2 emissions by 17 to 23 kilograms per day. In energy consumption terms that's up to 12 hours of an average US household's electricity use.
The study focused on workers who spend one or more days working from home each week and considered the energy consumed by telecommuting compared with the traditional method, driving. By telecommuting more than one day the energy savings really add up.
A worker with a one-way commute of 22 miles telecommuting five days a week would save about 320 gallons of gasoline each year while reducing global warming carbon dioxide emissions by 4.5 - 6.0 tons per year. The equivalent electricity savings would be about 4000 - 6000 kilowatt hours per year or the electricity consumed by an average household in 4 - 6 months. according to the study.
Do the math on energy savings for your work and shopping travel routines. Work from home, shop from home if you can. You'll save energy and money, and help save the planet.
Links:
Consumer Electronics Association
http://www.ce.org/
"Energy and Greenhouse Gas Emissions Impact of Telecommuting and e-Commerce"
http://www.ce.org/energy