China discovers "new" glaciers on roof of world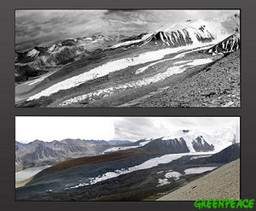 greenpeace.org
BEIJING (Reuters) - China has discovered 42 glaciers on the roof of the world, the Qinghai-Tibet plateau where ice is shrinking due to global warming, and the group could be the biggest of them all, state media said on Tuesday.
Beijing has become increasingly concerned about global warming as studies show glaciers retreating on the plateau, where China's largest rivers originate.
The 49 glaciers were found by satellite imagery in Bomi County which has an average altitude of 4,200 meters (13,800 ft) above sea level, the China Daily reported.
The rivers of ice on the plateau, which borders the Himalayas, account for around four-fifths of China's glaciers and are crucial for drinking water and irrigation at ground level.
"(If the find is confirmed) it would be the biggest glacier group on the plateau," Zhaxi Norbu, director of the county's publicity department, was quoted as saying.
China has about 46,000 glaciers, totaling 60,000 square kilometers (23,000 sq miles) primarily in Tibet and Xinjiang.
Over the past century, the area of the glaciers has shrunk by around 30 percent.