Wal-Mart Greens Supply Chain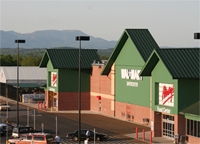 On the heels of
unveiling "Great Value" brand CFLs last week
, Wal-Mart announced today that the company is working with suppliers to gauge and reduce the energy consumed in buying, manufacturing and distributing the products they sell, beginning with a focus on seven products (DVDs, toothpaste, soap, milk, beer, vacuum cleaners and soda).
Through energy reduction policies like this, retailers with supply networks on the scale of Wal-Mart's, can send a ripple of efficiency standards and product innovation through multiple industries, and squeeze inefficiency out of operations. Wal-Mart, which will encourage the rest of its suppliers to respond to their new program, is working closely with suppliers and organizations like the Carbon Disclosure Program.
Articulating that this initiative is both a sound business decision for Wal-Mart's supply chain and the environment, the firm's Chief Merchandising Officer said, "This is an opportunity to spur innovation and efficiency throughout our supply chain that will not only help protect the environment but save people money at the same time."