Storms pose no risk to U.S. oil rigs in Mexico Gulf: NHC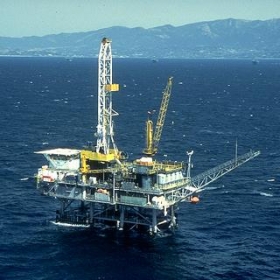 NEW YORK (Reuters) - Despite a tropical storm and a tropical depression spinning in the Atlantic Ocean and the Gulf of Mexico, no storms currently threaten the U.S. oil and natural gas production in the northern Gulf of Mexico, the U.S. National Hurricane Center said Wednesday.
Tropical Depression 13, however, could disrupt operations in the Cantarell Complex of Mexican oil fields beneath the Bay of Campeche in the southwestern Gulf of Mexico.
The Cantarell Complex is one of the most productive oil fields in the world, supplying about two thirds of Mexico's crude oil output.
In the Bay of Campeche, TD-13, with maximum sustained winds near 30 miles per hour, will likely strengthen into a tropical storm (winds 39-73 mph) over the next 24 hours, the NHC predicted.
The NHC will name the next tropical storm Lorenzo.
The NHC does not expect TD-13 to strengthen into a hurricane with winds over 74 mph before moving inland over central Mexico and dissipating over the next 96 hours.
The center of the depression was located about 205 miles east-southeast of Tampico, Mexico, and about 155 miles east of Tuxpan, Mexico at 5 a.m. EDT (0900 GMT), the NHC said in a report.
The depression was moving toward the south at nearly 3 mph. The NHC expected the depression to move slowly and erratically during the next 24 hours.
The Center will issue anther advisory on TD-13 at 11 a.m.
TROPICAL STORM KAREN
In the Atlantic, Tropical Storm Karen continued to strengthen and was currently packing maximum sustained winds of nearly 50 mph.
The NHC, however, did not expect Karen to strengthen into a hurricane over the next five days.
The center of Karen was located about 1,285 miles east of the Windward Islands (Dominica, Martinique, Saint Lucia, Saint Vincent, the Grenadines and Grenada).
Karen will not pose any danger to land over the next five days or so, according to the weather models.
The storm was moving toward the west at nearly 14 mph with a turn toward the west-northwest expected during the next 24 hours, the NHC said.
The Center will issue another advisory on Karen at 11 a.m.
OTHER SYSTEMS
The NHC said an area of disturbed weather over south Florida, the western Bahamas and the western Atlantic associated with a surface trough (an elongated area of low pressure) could slowly develop over the next day or two as it moved northeastward -- away from the Gulf of Mexico.