Pay-As-You-Go Solar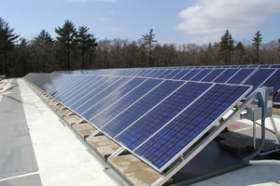 LONG BEACH, Calif. - You want solar but can't afford it? Purchase the power, not the panels. That's what the solar energy company Sun Run Generation is doing. The company announced a partnership with REC Solar,a company providing residential and commercial solar electric systems, to offer homeowners in California a discounted way to buy solar power. Homeowners have the option of purchasing solar energy the same way businesses have for years, by purchasing power instead of panels.
Unlike traditional avenues of financing home solar systems, which rely on obtaining home equity loans or additional lines of credit, the Sun Run Electricity plan requires no upfront credit or additional loans. Instead, homeowners lock-in their low electricity rate with a one-time installation fee and simply pay for their new Sun Run solar service as they would with any other monthly service. REC Solar will supply the reliable residential solar energy systems from which Sun Run will sell discounted electricity to the homeowner. Customers are guaranteed performance and save more than 50 percent off the upfront cost and 15 percent over the 20-year life of the solar electric system.
"As utility rates continue to rise, residential energy consumers are becoming increasingly aware of the need for a secure, clean, fixed-cost alternative to utility power. The Sun Run Electricity Package assures customers a continued, clean energy source with the safety of our money-back performance guarantee," explained Sun Run COO, Nat Kreamer. "With partners like REC Solar, the largest solar contractor in the U.S., we're working with highly-qualified installers to maximize the value of every solar power system."