Mountain mining called "genocide" of Appalachia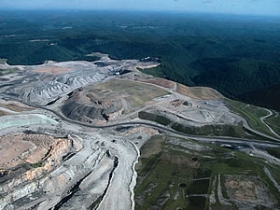 KAYFORD MOUNTAIN, W. Va (Reuters) - Larry Gibson's tiny house sits in a green oasis on top of the Appalachian peak his family has called home for 230 years. The setting would be peaceful if not for the roar of machinery scraping away the surrounding mountain in search of coal.
"It's a noisy, dusty place. They dynamite constantly," said Gibson, 61. "It's the genocide of Appalachia, the destruction of a people who have lived in these mountains forever."
Gibson has emblazoned the wooden cabin he calls home with a banner calling for an end to mountaintop mining, along with the words "We are the keepers of the mountains ... don't destroy them" -- his defiant stand against coal companies who have offered to buy his land.
"How can I tell people to stand up if I don't do it myself?" Gibson asked. "The land I stand on is worth more than the almighty dollar."
Coal mining has sustained generations of Americans in Appalachia, an isolated and often impoverished region stretching across America's eastern interior. Mine shafts and coal conveyors dot the hamlets and hollows where miners live amid the splendor of smoky mountains and hardwood forests.
But while the U.S. appetite for coal has long bumped against the environmental impact of mining, the growth of mountaintop removal has divided residents as never before.
Church groups urge congregants to write to Congress to stop mountaintop mining. University students converge on West Virginia in the summer to demand "mountain justice." Protesters lead prayer vigils to save the mountains.
LIGHTS ON
But while environmentalists say mountaintop mining destroys forests, pollutes streams and floods communities, industry experts say the decade-old practice provides much-needed jobs and the steady supply of coal that America relies on for more than half of its electricity needs.
"Coal keeps the lights on," West Virginia Coal Association vice-president Chris Hamilton said simply, adding that mountaintop mining is not only safer than underground mining, but produces coal that is lower in sulfur -- and hence more climate-friendly -- than the coal removed from deeper in the earth.
West Virginia's 271 surface coal mines employ some 7,000 workers, while another 13,500 work in the state's 330 underground mines, all earning a salary more than double the state average, according to the association.
Hamilton said the flattening of West Virginia's mountains also gives the area a head-start on non-mining development long hampered by the state's hilly terrain, providing flat land for airports, prisons and golf courses. Environmentalists say that argument is ridiculous, given the remote location of most of the mountaintop mines.
The devastation of mountaintop mining, which began in earnest in the 1990s, is impossible to miss from the air.
Local pilot Tom White has seen the transformation of the mountains in the 12 years he's been flying overhead.
"It's changed dramatically," said White, a lawyer and author who flies for SouthWings, a nonprofit environmental aviation group trying to educate the public about the devastation that is often hard to fathom from the ground.
From above, the mountaintop mines loom up one after another like massive brown islands in a forested green sea as White flies south of Charleston into coal country. Miles of strip mines have flattened mountaintops, and patches of reclaimed land appears as treeless green tundra beside the thick hardwood forests.
"You look at this stuff and you think, at least I do, that this just can't be right," White said.
SLOW PROCESS
Will Fisher, environmental coordinator for Nicholas Energy, a unit of Massey Energy Co, said mountaintop mines are being reclaimed even as the mining continues. But while grasses grow quickly, trees take many more years -- leaving mining companies open to criticism from people who want instant results.
"It's frustrating to come up against so much opposition," said Fisher, who is experimenting with new ways of packing topsoil to make trees grow more quickly on mined lands.
"People see the ongoing process and assume that's what it looks like 20 years down the road. They want to see immediate results and that's just not the way nature works."
Fisher said mining companies now have a 70 percent survival rate for trees they plant, a big improvement from just a decade ago. But he said it still takes 15 to 50 years to grow trees to a point where they can be harvested for forestry -- and up to 100 years to return the lands to their original state.
"It's a slow process, but it is implemented," he said. "It's just that people who want to see forest now aren't going to be around to see it when there is a forest again."
Retired miner Chuck Nelson, 57, is skeptical. He leads visitors to the edge of the massive mountaintop removal operation where Catenary Coal Co has carved off the top of Kayford Mountain in search of new coal deposits.
"They're destroying everything that lies in their path," he said, pointing to the rubble that Catenary has pushed off the mountain into adjacent valleys.
But Nelson, who started underground when he was 19 and whose father and brother also made a living off of coal, is quick to acknowledge the emotions that divide communities when the subject of mountaintop mining comes up.
"Once you're in the mines it's hard to walk away because there's not a lot else," he said. "It's only after getting out that you see how devastating coal mining really is."