USDA seeks help from consumers after beef recall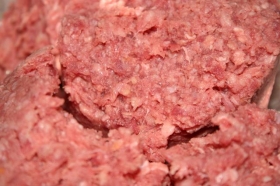 WASHINGTON (Reuters) - The U.S. Agriculture Department on Monday said consumers play a major role in avoiding any of the 21.7 million pounds of ground beef, at risk for the E. coli bacteria, flagged in the fifth-largest meat recall in U.S. history.
The recall by Topps Meat Company LLC has generated reports of 27 illnesses suspected to be linked to the recalled meat, USDA said, but just three have been confirmed.
The department suspended the raw processed meat operations of Topps on September 26 after an initial recall of 331,582 pounds of frozen ground beef products.
"This is frozen product" and could still be in home freezers, said Richard Raymond, the Agriculture Department's undersecretary for food safety. He added that "consumers have a big role" in getting the meat out of circulation.
Products affected by this expanded recall were distributed to retail grocery stores and food service institutions throughout the United States including Pathmark Stores and Wal-Mart Stores.
Based on consumption patterns, Topps said it believes that the vast majority of the recalled product has been consumed.
Raymond said USDA sent a food safety assessment team to Topps and found it did not follow proper meat-handling procedures. The company, which is the largest U.S. producer of frozen hamburger patties, kept meat from one day's operations and then mixed it into the next day's run, Raymond said.
USDA is trying to find the source of the bacteria. For now, a spokeswoman with USDA's Food Safety and Inspection Service said the agency's "biggest interest is getting the word out to consumers."
E. coli O157:H7 can cause diarrhea and dehydration. Children, the elderly and people with poor immune systems are the most susceptible.
The Consumer Federation of America said in a statement that the Topps recall shows "a major revision of food safety laws" is needed to protect consumers.
Sen. Sherrod Brown of Ohio launched a plan on Monday to give USDA authority to order mandatory recalls of meat, poultry and egg products under its purview. It also would include similar authority for the Food and Drug Administration and the food it regulates.
"When something does go wrong, USDA needs to be able to act and act quickly. Neither consumers nor producers are helped by foot-dragging," Brown said in a statement.