Going Beyond Formaldehyde Binders in Manufactured Wood Products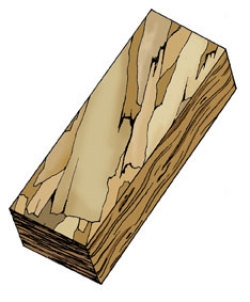 Manufactured wood products—including plywood, oriented-strand board (OSB), laminated-strand lumber, particleboard, and medium-density fiberboard (MDF)—have the environmental advantage of being made from small-diameter or other low-quality trees or waste from wood-processing operations, conserving higher-quality timber.
With these products, the wood is peeled into thin veneers, chipped into small strands or flakes, or ground into wood flour; in each case, the pieces are then glued to produce a durable and stable panel or lumber product. Two glues, or binders as they are called in the industry, dominate the manufactured wood products industry: urea formaldehyde (UF) and phenol formaldehyde (PF).
For interior-grade products, including particleboard, MDF, and hardwood plywood, UF binders have long been more popular because of their low cost and light color compared with PF binders. For exterior-grade applications PF binders are favored because of their better moisture resistance. While UF binders are significantly less expensive than PF binders, they give off a lot more formaldehyde—a volatile compound that is classified as a known human carcinogen.
Formaldehyde's other health impacts include respiratory problems; eye, nose, and throat irritation; allergic reactions; and depression. Its emissions can be recognized by the telltale sweet smell in most new kitchen and bath cabinets. Partly due to concerns about formaldehyde emissions and in response to new California regulations that will restrict formaldehyde emissions, the industry has introduced other binders. SierraPine has long used methyl diisocyanate (MDI), a polyurethane binder, in its Medex and Medite II MDF, and since 2006 in its Arreis particleboard. MDI contributes to a better indoor environment for building occupants—once cured, it is extremely stable with virtually no offgassing—but it is extremely toxic in the factory.
Some OSB manufacturers have also used MDI, as does TrusJoist with its TimberStrand laminated-strand lumber. MDI is even more moisture-resistant than PF, making Medex appropriate for outdoor signage. Particleboard made from straw uses MDI instead of UF or PF binders—mostly because the MDI adheres better to the straw fiber. Several particleboard products, including Roseburg SkyBlend and SierraPine Encore, also use PF rather than UF binders. Given the concerns about formaldehyde, a lot of R&D is going into formaldehyde-free binders for manufactured wood products.
Researchers at Oregon State University, inspired in part by the ability of mussels to form an extremely durable adhesion underwater, developed a formaldehyde-free, soy-based binder, now produced by Hercules and used in Columbia Forest Products' PureBond hardwood plywood. Because most binders are more expensive than UF, we can expect manufactured wood product prices to increase to some extent as UF is eliminated.