U.S. promotes swap to energy-saving light bulbs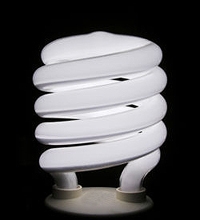 WASHINGTON - The Environmental Protection Agency on Wednesday kicked off a campaign to get U.S. consumers to switch to energy-efficient light bulbs as a way of reducing energy spending and greenhouse gas emissions.
The EPA's "Change-a-Light, Change-the-World" bus tour will travel to 10 U.S. cities this month to promote Energy Star light bulbs that use about 75 percent less electricity than standard incandescent light bulbs and last up to 10 times longer.
The government puts the Energy Star label on light bulbs, appliances and other products that save energy.
The agency wants every U.S. household to change at least one traditional bulb to an Energy Star bulb, collectively saving $600 million a year in energy costs and preventing enough greenhouse gas emissions to equal what is spewed from the tailpipes of 800,000 cars.
"What we hope to do is to get these Energy Star compact florescent lights off the store shelves and into peoples' homes," EPA Administrator Stephen Johnson said in telephone interview to the Reuters Global Environment Summit.
"We want to encourage people to make smart energy choices," he said. "By changing just one bulb, a consumer can save $30 in electricity costs over the bulb's lifetime."
Johnson pointed out that the Energy Star bus, which is also sponsored by the Energy Department, will travel across the country running on cleaner-burning diesel fuel.
Legislation is pending in Congress to phase out traditional light bulbs in favor of the more energy efficient ones.
However, James Connaughton, who heads the White House Council on Environmental Quality, said the Bush administration has no plans to mandate such a change.
"Our perspective in general is that it's better to set a performance requirement (to reduce energy use) through new building codes than dictate specific technologies and approaches for achieving that performance because it varies stunningly from building to building and geographic area to geographic area," he told the Reuters summit.