New Roofing Technology: Strong, Light, Green, Beautiful, Sustainable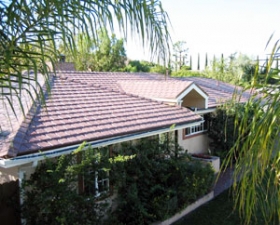 Santa Ana, Calif. – A Santa Anna California company has developed a new green roofing product that is both light and strong and environmentally-sustainable, using advanced engineering polymer materials. The top layer of the roofing product is made from a highly weatherable material called GE Geloy for superior weatherability. This type of material has been used for more than 40 years for outdoor weatherable applications, yet it has never been used in roofing technology until now. The company, ArmorLite Roofing, developed the new material in cooperation with GE.

"ArmorLite's breakthrough technology has redefined the roofing industry forever," says Rob Keen, President of Pacific Supply Co. in Orange, Calif., one of the nation's leading roofing distributors. "They've taken the weight off the roof with an environmentally-friendly, safer product. This industry has been waiting a long, long time for this."

Nothing has been more un-green and un-environmentally-friendly than the archaic roofing industry, which for more than 100 years has dealt with a serious weight problem, as well as unsafe, landfill-cluttering, energy-inefficient products like asphalt, metal, wood, clay, and concrete.

"ArmorLite is by far the safest roofing product available for families and the environment," says ArmorLite CEO Frank Lane. "It is eight times lighter than ancient materials like asphalt, metal, wood and clay, yet it's tougher and more durable. ArmorLite Roofing also reduces energy bills, is the most architecturally beautiful roofing ever created, and is by far the easiest material to install."

The average roof on a home weighs up to 30,000 pounds. ArmorLite's is 3,500 pounds. "We're 70 pounds per 100 square feet while the competition averages 600 pounds per 100 square feet," Lane says. "That's night and day."


According to Jim Stewart, PhD, environmental scientist with Modern Energy Corporation, the weight of roofing materials has the overall greatest environmental impact in almost every environmental impact category listed. Lighter weight roofing materials alone affect the environmental impact from birth to grave more than any other factor. Lighter weight roofing materials decrease the raw materials used, manufacturing and transportation energy use, workers and homeowners safety, landfill use and waste. Weight is also an easy criterion in determining general environmental acceptance criteria.

Roofers Exchange Magazine Publisher Vickie Sharples, is one of the new customers. She recently choose ArmorLite for a new roof for her Brea, Calif. home. Sharples is a respected voice in the roofing industry. "It's a great product," she says, I've never seen anything like it in all my years in this industry – and I've seen it all. There are so many great benefits to ArmorLite that it really made my choice quite easy, since I needed to go lightweight because of structural constraints. From an aesthetic standpoint, I needed a product that had a thick profile since I have a low pitch on my home. ArmorLite worked perfectly because it has so much dimensional beautiful and has so many great color choices. I couldn't get just any roof," she adds. "I have to have a great roof because I look at them all day long. My roof represents me and who I am."

The product, many say, represents a major shift in the roofing industry because existing roofing materials of the last 100 years resemble heavy metal armor. The ArmorLite roof is lightweight and strong, like a Kevlar bulletproof vest that replaced heavy armor vests.
Product facts:
Reflects heat back into atmosphere and provides insulation, both of which dramatically reduce heating and cooling costs, ultimately saving consumers thousands of dollars (rebates are offered from utility companies for using "cool roof" rated roofing materials such as ArmorLite)
100% recyclable with 0% waste in manufacturing
Eight times lighter (3,500 lbs) than the average roof of 30,000 lbs.
Uses the least amount of earth's resources of any roofing material
Engineered to withstand the most extreme climatic conditions -- high winds, earthquakes and fires
Artistically crafted
Is manufactured in 2x4' panels, enabling roofers to install it quicker and easier – and with 70% less nails
Offered in multiple colors; designs
Jim Stewart of Modern Energy Corporation, called the new roofing product "an ideal example of a sustainable green roofing product that encompasses all the considerations of a sustainable roofing product with low environmental impact as well as meeting Energy Star and Cool Roof Standards."
Tustin, Calif. homeowner Kathleen Italiane said "Asphalt shingles are not attractive, especially on our Cape Cod style home. We wanted a slate look, but not the weight or breakage of slate. ArmorLite had the best durability and most artistic thick profile of any of the synthetic slates I had seen. With ArmorLite, my home value increased, so ArmorLite paid for itself. And now our home is the most beautiful on the block."
The roofing material is expected to increase roof installation times, reduce injuries to installers, and decrease shipping and handling costs. The company says the material has less breakage and is strong enough to walk on. Roofing contractor Randy Ramsey says, "You can step on it, jump on it, and it won't break, nick, scratch or dent," Randy Ramsey says. "I can't tell you how many times I've had to go out to homes to change broken tiles, slate and shake. With ArmorLite, I don't have to do that anymore. It's the most durable product ever made. It's a lifetime product. Homeowners won't ever have to get another roof when they get ArmorLite."

Because of the weight of archaic roofing materials like concrete, tile, metal and asphalt, roofing applicators have the highest workman's comp rate of any industry in the country. ArmorLite executives say they expect to change that statistic too by reducing injuries, workman comp claims and insurance rates.
For more information: www.ArmorliteRoofing.com