U.S. Recalls over 1/2 Million Toys for Lead Levels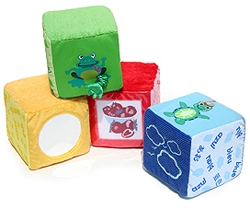 WASHINGTON (Reuters) - More than half a million toys ranging from key chains to Winnie the Pooh bookmarks and Baby Einstein color blocks are being recalled because of excessive lead levels, the Consumer Product Safety Commission said.
Among the recalled toys, all made in China, were key chains with words like "truth" or "believe" engraved on them that have "high levels" of lead, the commission said in a statement.
Dollar General Merchandising Inc sold 192,000 of the key chains for $1, the CPSC said.
Lead is toxic in large amounts. A 4-year-old Minneapolis boy died of lead poisoning in 2006 when he swallowed a small charm. In smaller amounts, lead can cause developmental delays and behavioral problems.
This latest round of recalls follows a summer in which millions of toys from Mattel Inc, RC2 Corp and others were pulled from shelves worldwide due to lead paint.
The latest recalls were announced as the acting head of the CPSC, Nancy Nord, was to testify at a Senate subcommittee hearing on a bill to reform the agency and require it to take tougher measures to protect children.
The recall also affects about 35,000 Baby Einstein Discover and Play Color Blocks, which had excessive lead in the paint.Also recalled were about 150,000 journals, bookmarks and bracelets made by Antioch Publishing. The bracelets contain high levels of lead, while the paint used on the journal bindings and bookmark clips has excessive lead.
There was also lead in the paint on portions of 79,000 Pirates of the Caribbean Medallion Squeeze Lights imported by Energizer Holdings' Eveready Battery Co. and 63,000 plastic Frankenstein tumblers sold by Dollar General.
Paint on mirrors in about 15,000 children's room decorating sets made by CKI Toys had excessive levels of lead, as did wooden alphabet and math block wagons sold by KB Toys Inc, the safety commission said.©