Environmental groups hit Toyota on fuel economy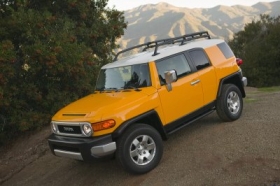 WASHINGTON (Reuters) - Leading environmental groups pressed Toyota Motor Co on Thursday to drop its opposition to the tougher of two fuel economy proposals in Congress, calling the automaker's stance contradictory.
In a letter to Shigeru Hayakawa, Toyota's chairman and chief executive of North American operations, the Union of Concerned Scientists, the U.S. Public Interest Research Group, the National Environmental Trust and other organizations said Toyota should support the higher standard since it makes the best-selling gasoline-electric hybrid, the Prius.
"Unfortunately, Toyota's recent lobbying in the U.S. Congress is inconsistent with its global reputation an environmentally and socially responsible company," the group's said.
Toyota, the global sales leader and big U.S. manufacturers oppose a measure passed by the Senate in June that would require the U.S. vehicle fleet of passenger cars, sport utilities, pickups and vans to average 35 miles per gallon by 2020, a 10 mpg improvement over today's standards.
Automakers are concerned the proposed method in the bill for calculating fuel savings would hurt their businesses by effectively limiting production of pickups and sport utilities. Those vehicles have been big sellers, but are generally less efficient than cars.
The auto companies support a less stringent bill proposed in the House of Representatives that sets a goal of 32 to 35 mpg by 2022.
Momentum has slowed in Congress for passage of energy legislation, including efforts to boost fuel economy to lessen dependence on foreign oil. There is no timetable for final action.
For decades, Toyota has built its business in the United States on efficient and reliable cars. But the company is now expanding its pickup production, taking sharper aim at a market dominated by General Motors Corp, Ford Motor Co and Chrysler LLC.
GM, Ford and Chrysler have for years successfully fought meaningful increases in fuel efficiency and emphasized larger more powerful vehicles such as sport utilities and pickups.
Toyota said it is on the right side of the fuel economy debate in supporting the House proposal, saying it is realistic and achievable.
"We have been an industry leader in fuel efficiency, consistently surpassing federal government standards," said Josephine Cooper, the company's top lobbyist.