Canadian province to set aside caribou lands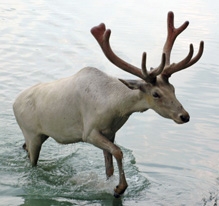 CALGARY, Alberta (Reuters) - British Columbia on Tuesday said it will set aside hundreds of thousands of acres of old-growth forest in order to boost the Canadian province's dwindling mountain caribou herds.
The province said it will add 865,000 acres of protected lands. That will bring the total area of lands where logging and road building will be prohibited to 8,500 square miles, an area nearly the size of New Jersey that covers 95 percent of the animals' range in the province.
The province hopes the move will boost the caribou population from a current 1,900 animals in 12 herds to about 2,500, where it stood in 1995.
"We think that will provide a long-term, sustainable number," Pat Bell, the province's minister of agriculture and lands, said on a conference call.
The decline in the herd has been blamed on habitat loss and predators. In addition to protecting the lands, the province said it will manage wolf and cougar populations in the protected wilderness.
British Columbia's mountain caribou are the world's southernmost herd and the only one that lives in mountains, the province said in a release.