A Sustainable Holiday Spirit, in Mason, Michigan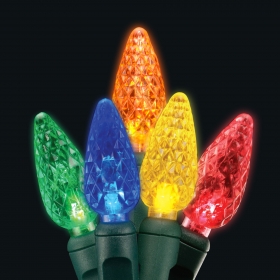 Ingham County, Michigan - The city of Mason, Michigan has decided the spirit of the holidays includes the spirit of sustainability. And you'll see it brightly displayed on their holiday tree on the Ingham County Courthouse's west lawn.
For starters the city is replacing its incandescent holiday lights with energy-efficient LED Christmas lights. The 1200 new LED lights replace 500 old incandescent ones, draw a quarter of the power, 864 watts compared to the previous 3276 kilowatt hours; use professional weatherproof connectors and durable epoxy plastic, not glass bulbs. All 1200 lights can be plugged into one standard outlet.
This will save the City about $250 each year while adding over 700 lights to its tree.these features should eliminate the problems Mason has experienced in the past with its holiday lights. "Not only will the City have more lights on its tree this year and save some money in electricity, the new LED lights are rated to last for more than 200,000 hours and will serve the City for many years to come," said Philip Curtis, co-owner of HolidayLEDs.com, the company that supplied the lights.
"In past years we have decorated the tree with about 500 incandescent bulbs and about 25 percent would burn out each year," explained Doug Klein, executive director of the Mason Area Chamber of Commerce. "We also installed more power outlets underneath the tree with ground fault interrupters and we would still blow several fuses causing substantial portions of the tree to go dark," Klein added.The Mason tree is illuminated each year for approximately 6 weeks beginning the day after Thanksgiving and ending after the New Year.The old  bulbs consumed an average of 6.5 watts per bulb which, after 42 days of 24-hour operation, consumed 3276 kilowatt hours of electricity (about $327 worth.) In contrast, the new 1200 LED Christmas lights will consume only 870 kilowatt hours of electricity (about $87 worth) during the same period.
"The choice to replace its lights with LEDs will have a substantial positive impact on the environment over the lifetime of the lights," Curtis explained. According to HolidayLEDs.com Energy Scroogeâ"¢ Calculator, switching the 500 incandescent lights to LEDs will reduce Co2 emissions by 521 pounds each year. This is the equivalent of planting 386 trees each year.
For more information:www.holidayleds.com or the Mason Area Chamber of Commerce: dougklein@masonchamber.org